An aging loved one, like a parent, may have helped you learn to eat as a child. They may have cooked you dinner, introduced you to new foods, and spoon-fed you as an infant.
If you are now caring for a person, you may have noticed a role reversal — you are now feeding them and looking for the best adaptive utensils.
This article will discuss the benefits of adaptive utensils and list out 9 of our favorites.
If you want to jump right to them, here is the list of those utensils:
---
Strokes, conditions like Parkinson's Disease, general aging, and dementia can cause independent eating to become a challenge. In some cases, such as the late stages of dementia, the adult may need assistance. But in other instances, it's worth giving adaptive utensils a try. Just like adaptive clothing makes dressing independently easier, adaptive utensils make it possible for people to feed themselves. They have unique features, such as flexability and enhanced grips, that cater to a person's needs.
Shopping for adaptive utensils can feel like one more thing to figure out if you're new to it. Let us help you see the benefits and find the adaptive utensils that will help your loved one thrive.
Benefits of Adaptive Utensils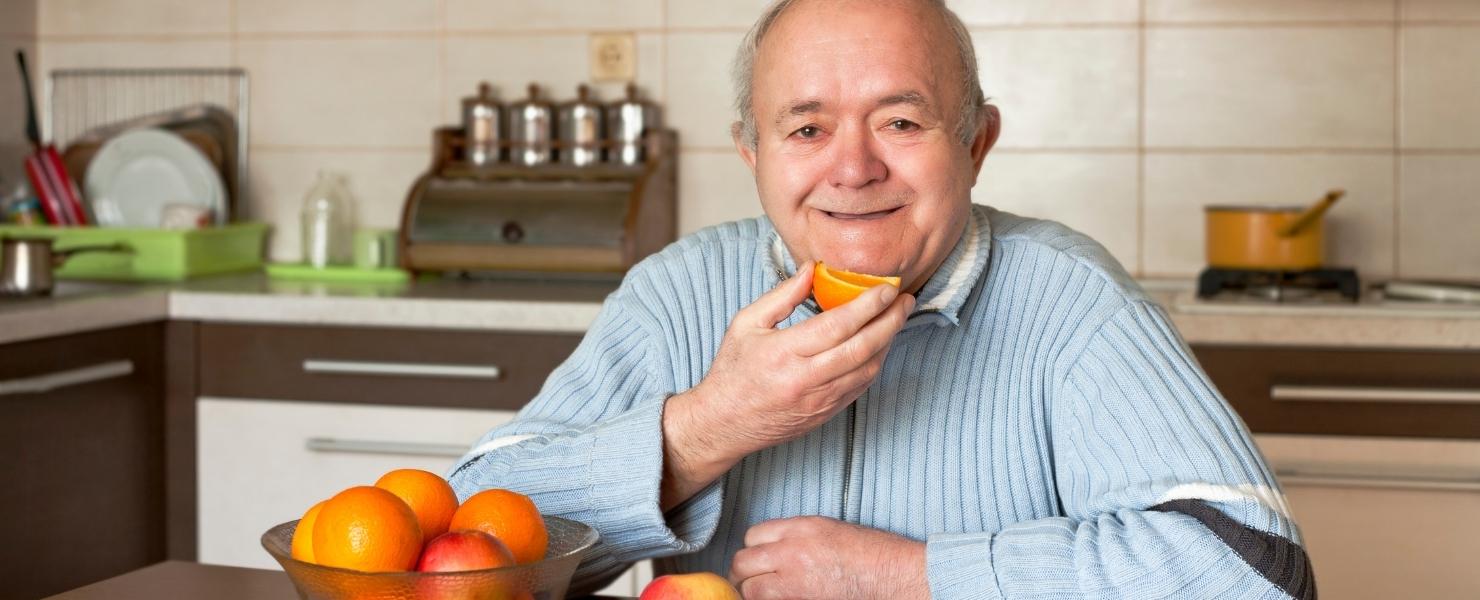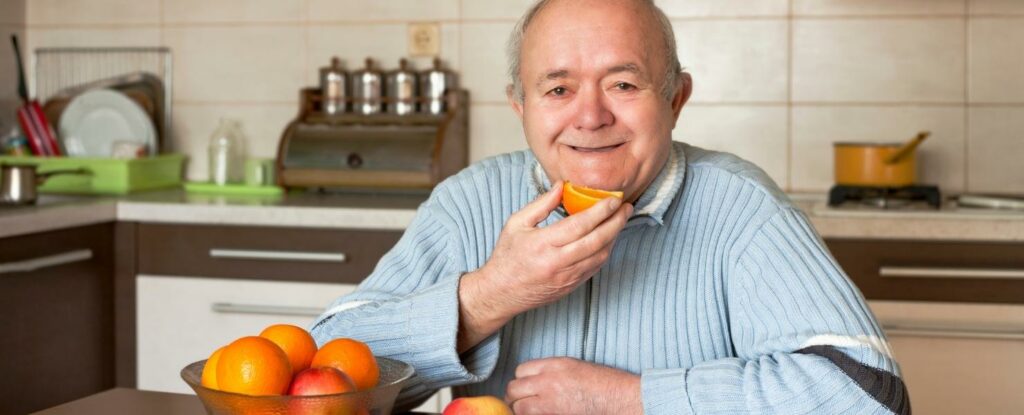 Adaptive utensils can help both caregivers and their loved ones maintain a sense of normalcy.
They're time-savers. Feeding another person takes up a good bit of time, and you likely have other items on your to-do list, from your day job to managing your loved one's finances. By investing in adaptive utensils, you can get some precious minutes back in your day.


They boost independence and dignity. It can be difficult to watch a person who once cared for you struggle to care for themselves in the most basic ways, such as feeding. And put yourself in their shoes — they may feel less-than-adequate, even though they have no control over their condition. Adaptive utensils can give a person some autonomy back, which can enhance their mood and overall well-being. It will also allow them to gain a sense of dignity.


They make sure the person remains nourished. It's essential we get enough nutrition as we age. But if a person cannot feed themselves, they cannot get that nutrition and may have to skip meals. Not eating correctly can worsen current health conditions, such as diabetes or cause new ones. In turn, these health problems can become another concern for caregivers.


They're safe. Adaptive utensils have features that help prevent injuries, ensuring caregivers don't have to make an emergency doctor's visit and the person remains safe.
Best Adaptive Utensils
Adaptive utensils come at a variety of price points and have different features that help with specific health conditions. Here are some of the top options on the Internet.
BUNMO Weighted Utensils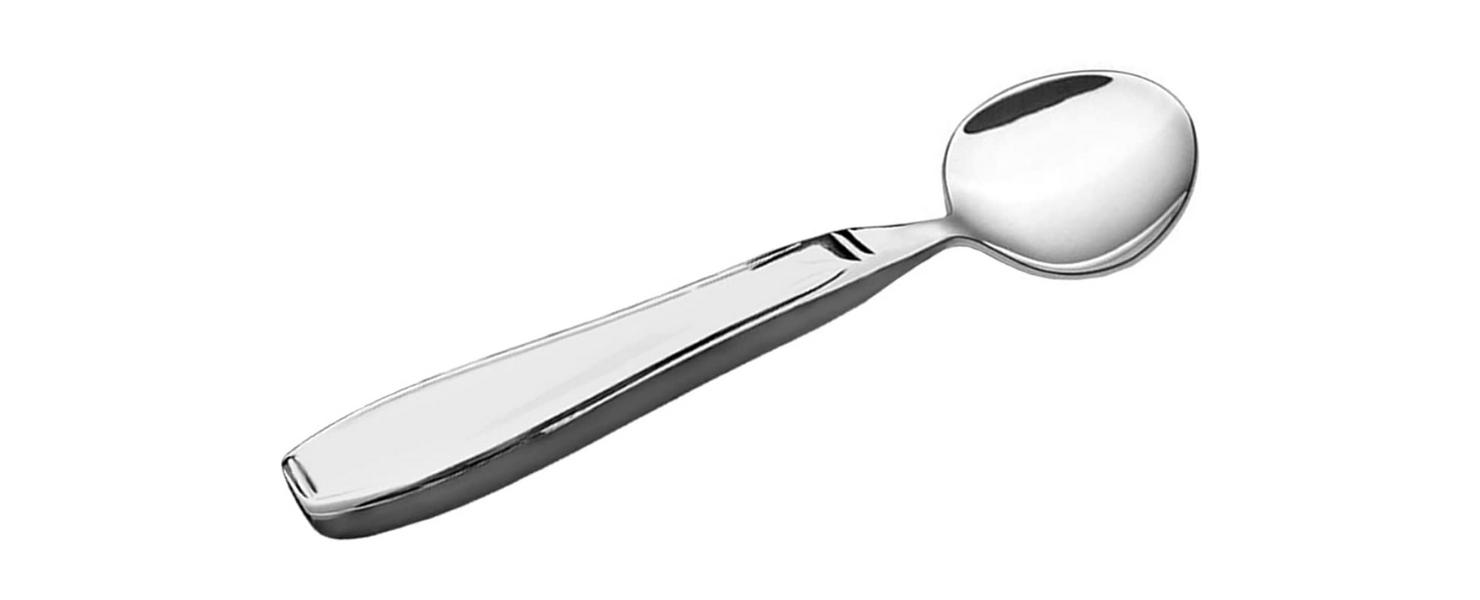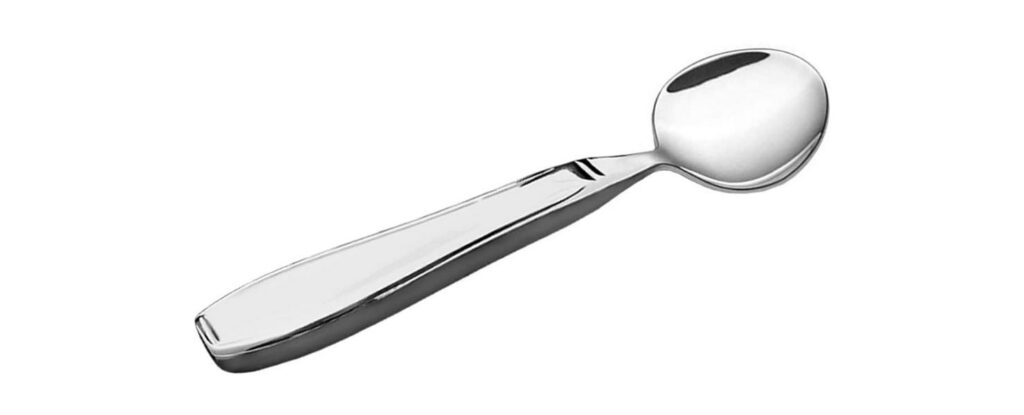 BUNMO's weighted utensils are particularly useful if your loved one has tremors or conditions like arthritis and Parkinson's Disease. The heavier nature of the utensils makes it easier to hold them and provides more support as the person navigates the food from their dish to their mouth.
Your friend or family member can feel more confident as they eat, instead of worrying about their mobility or tremors. The utensils look like standard silverware, so no guests have to know the difference unless the person would like to say so, allowing them to have a sense of dignity. Each set comes with two spoons, a knife, a fork, and a travel bag—take it to restaurants or other people's homes, and the person you're assisting can eat efficiently.
Good Grips-24972 Bendable Utensils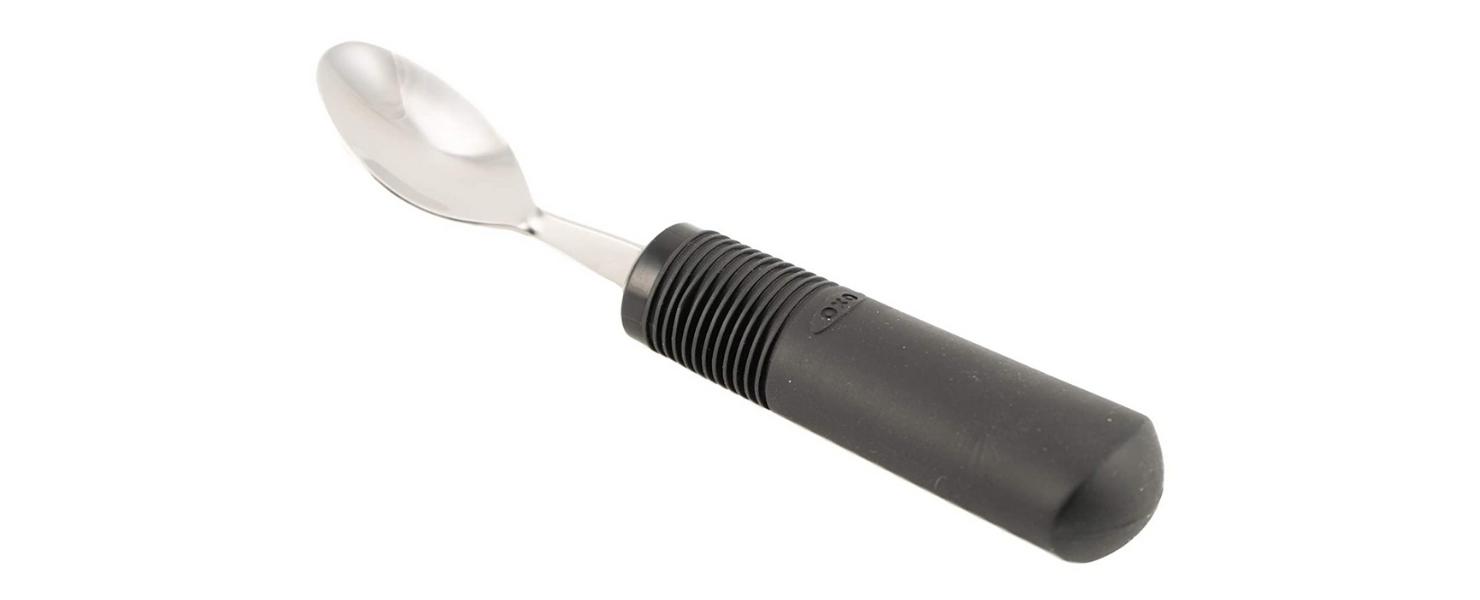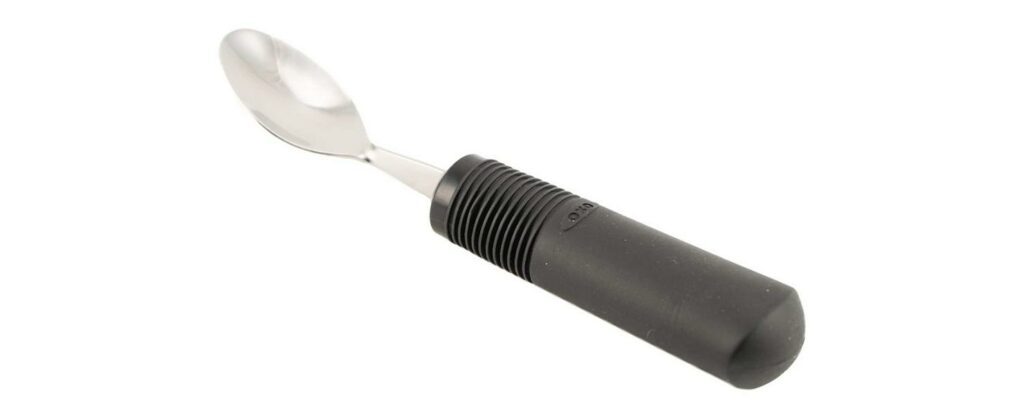 These bendable spoons, forks, and knives feature a 1-3/8 inch built-up handle that makes them easier to handle. A person can operate these adaptive utensils with either hand, and the forks and spoons have a unique twist built into the metal shaft that lets your loved one bend them at any angle. The soft rubber grips also provide assistance. Reviewers on Amazon have given the utensils 4.5 out of 5 stars and raved about how simple they are to grip. Tablespoon, fork, knife, and teaspoon sold separately.
Sammons Preston – 40057 Plastic Handle Swivel Spork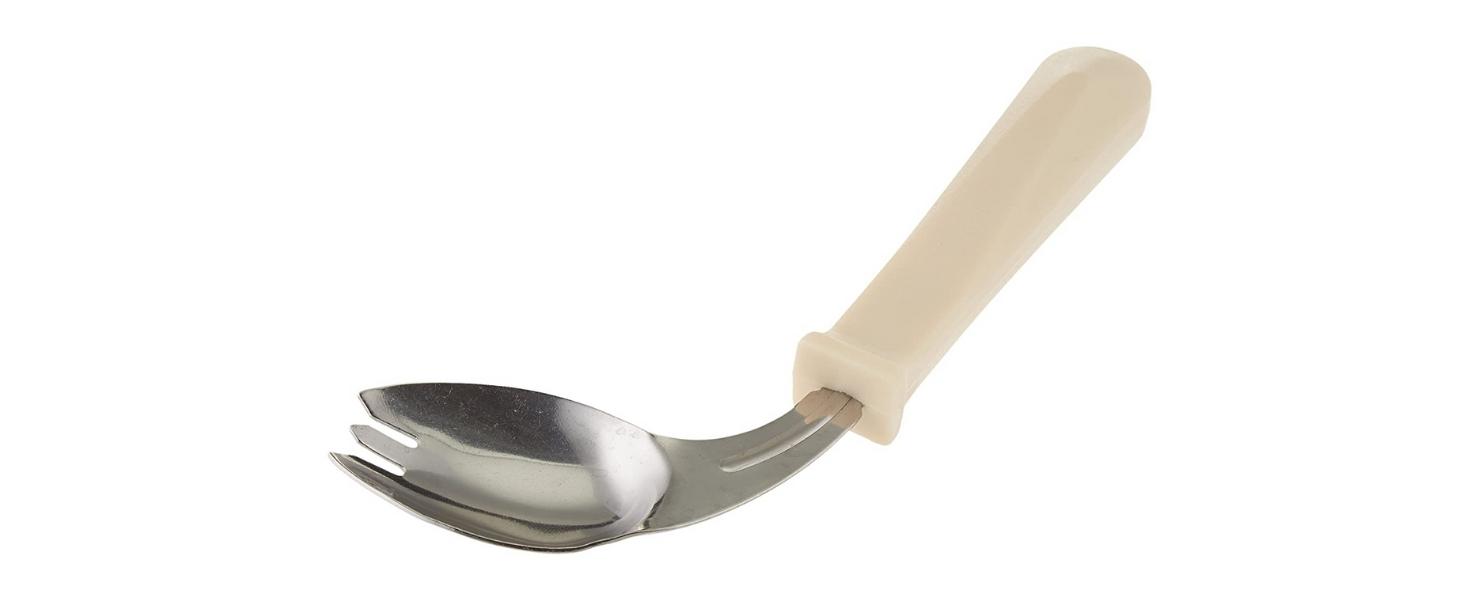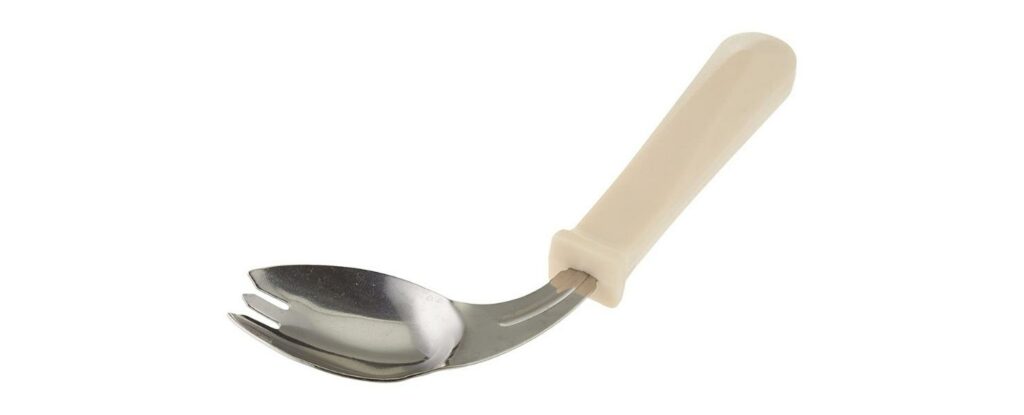 The Sammons Preston plastic handle swivel spork gives you two utensils in one — a spoon and fork — and helps to simplify mealtime. A unique swivel design feature keeps the food on the spork, regardless of what angle your loved one turns it. The feature ensures the food gets to their mouth and doesn't keep dropping on the plate or floor. At the top of the spork, you'll find a notched handle for easier gripping. Sammons Preston does note that the swivel spork isn't the best for people with severe tremors. It's stainless steel and dishwasher safe.
Parsons 3 oz. Right Handed Teaspoon and Left Handed Fork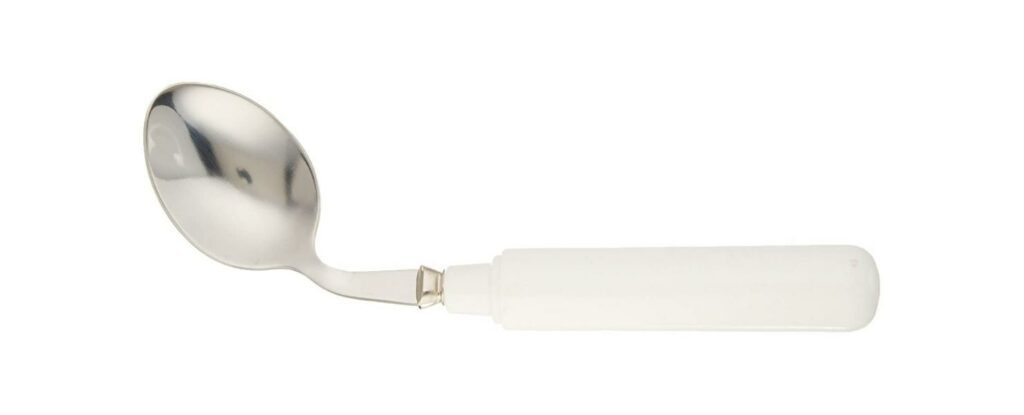 These utensils allow the person you're assisting to hold one in each hand. The comfort grips on the Parsons 3 oz. right-handed teaspoon and left-handed fork boast a soft-vinyl coating and finger indentations for a tighter grip. The utensils are lightweight and ideal for a person who struggles to grasp items.
Adaptive Wood and Plastic Cutting Board, Slice N Fun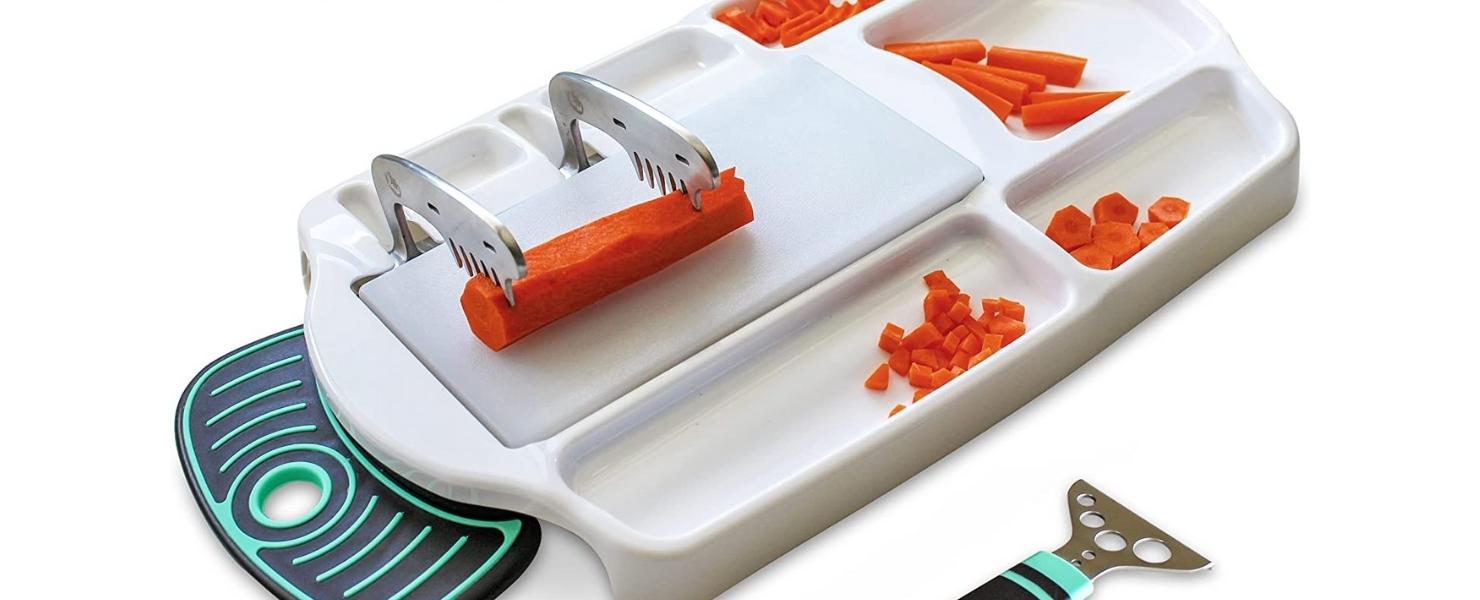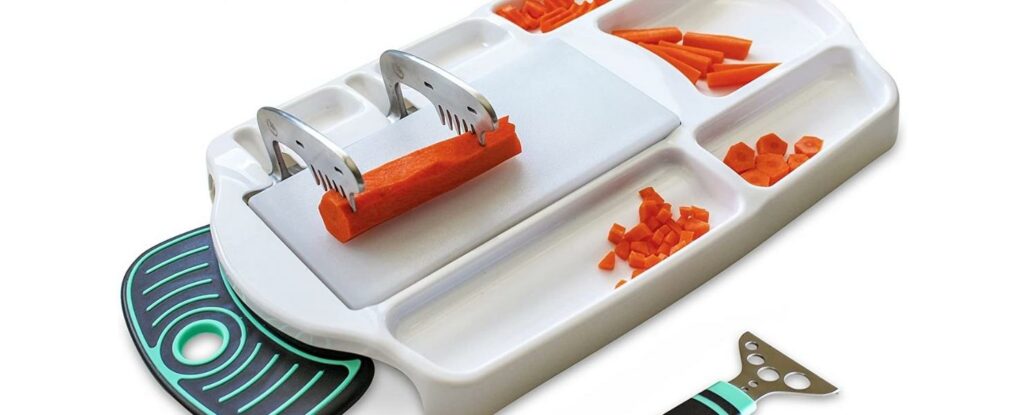 If your loved one used to crave not just eating but preparing homecooked meals, you can help give them some of that enjoyment back in a safe way. Slice N Fun's cutting board suctions to a surface, keeping it in one place while your loved one chops food, such as vegetables, with one hand. There are also pins to hold the food in place, so an individual can focus on slicing and dicing, not trying to hold the food with a hand they don't have full mobility of anymore. The equipment is dishwasher-safe, making clean-up easier for everyone.
Special Supplies Independence 2-Handle Plastic Mug with 2 Style Lids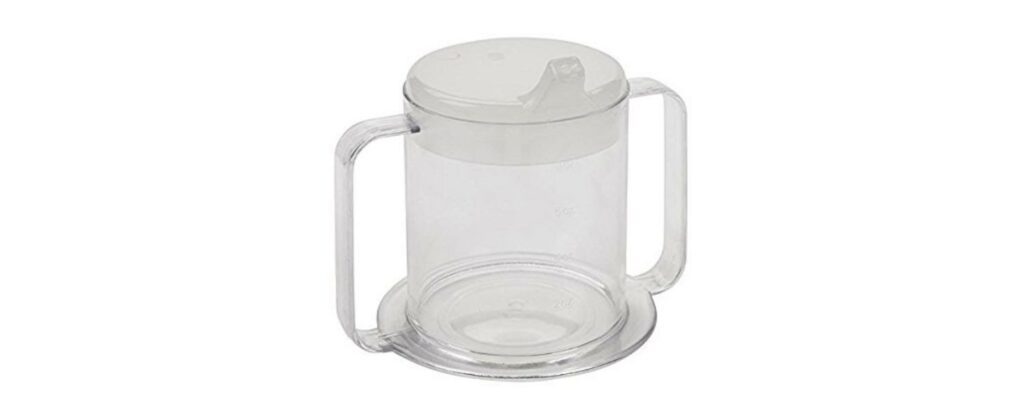 Food is important, but so are beverages. Drinking plenty of water can keep an aging person from feeling dizzy, and milk has calcium that can help your loved one maintain bone strength. But as a person gets older, they may have more difficulties sipping without spilling.
These cups from special supplies help mitigate those issues, giving your loved one independence and reducing the need for you to have to continue to clean up. The handles make it easier to hold the cups than a standard glass. There are two lids, one anti-splash and one with a spout, so you can work with your loved one to choose the one that best meets their needs. The cups are clear, enabling you to monitor their liquid intake.
GripWare Plastic Scoop Dish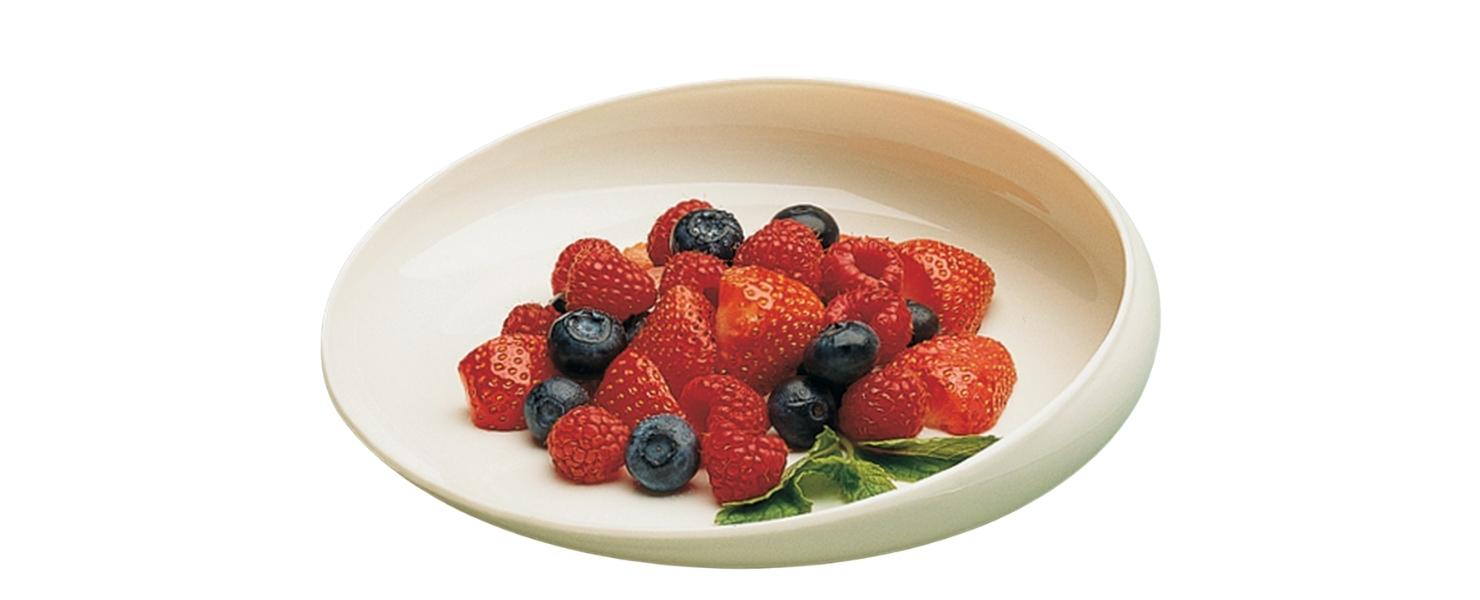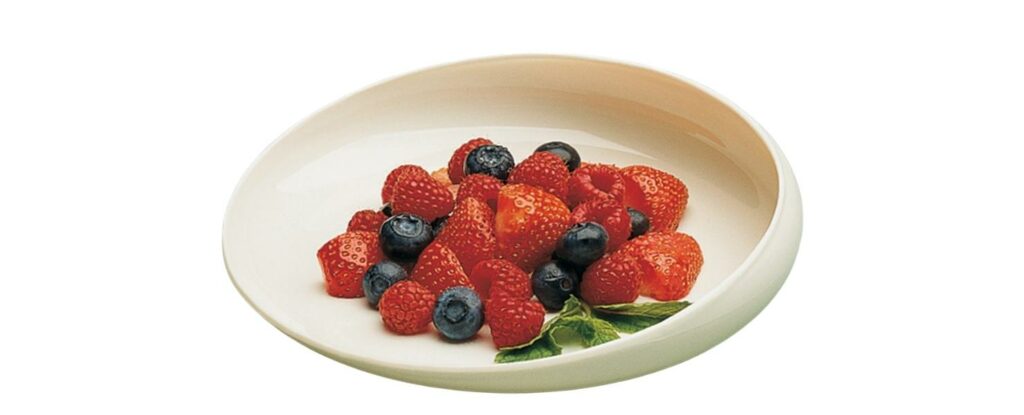 Sometimes, even with the best adaptive silverware, a loved one still finds it a challenge to pick up small foods, such as rice. It could be their coordination or even eyesight. The GripWare plastic scoop dish has a low edge that allows a person to scoop the food onto a fork rather than spear it. Nearly 200 reviewers have given the dish 4.5 stars out of 5 on Amazon, highlighting the fact that it gave their aging loved ones independence and made mealtime easier. Heads up: It's not microwavable, but you can put it in the dishwasher.
Rehabilitation Advantage Clear Cup with Blue Snorkel Lid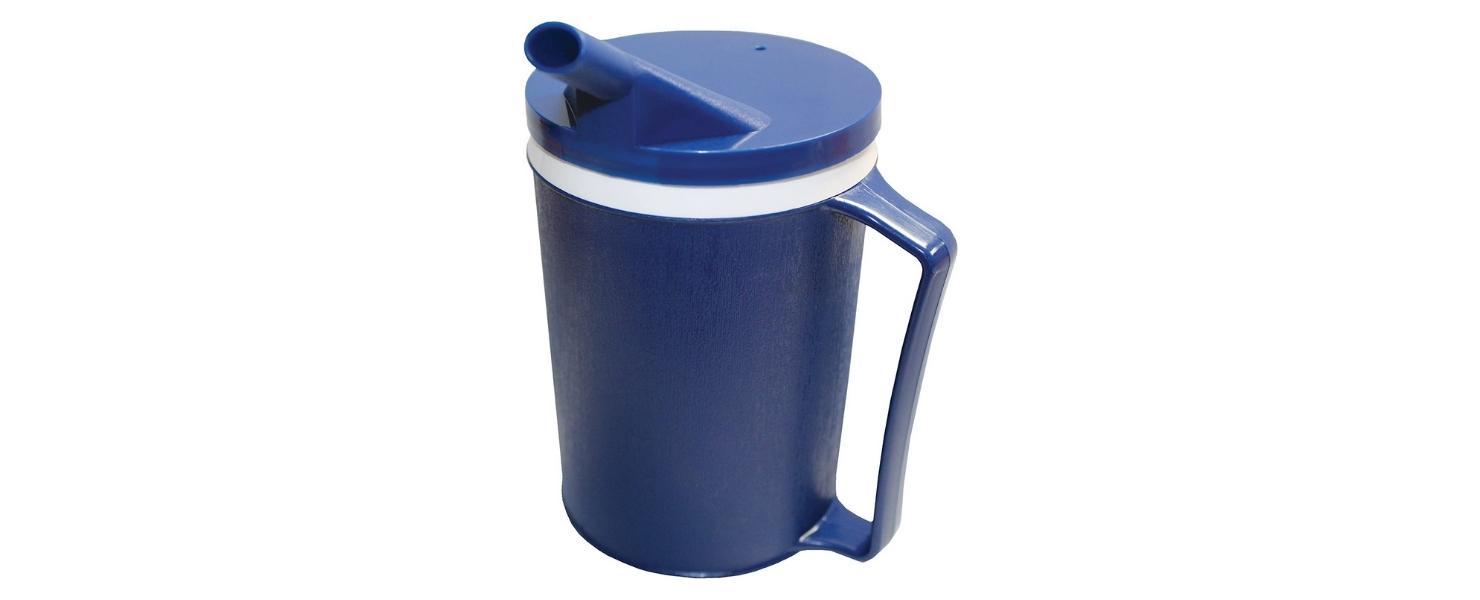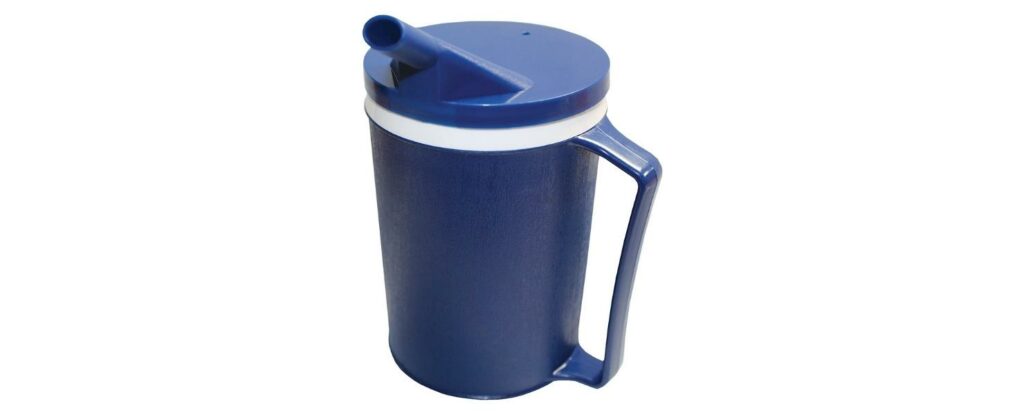 Rehabilitation Advantage has another effective way to ensure your loved one stays hydrated. The brand's 8-oz. clear cup with a snorkel lid is a favorite among people who tremors, spasticity, and poor hand control. The snorkel lid helps reduce spills, and the clear cup lets you see how much your loved one has had to drink.
Mabis Deluxe 5-piece Redware Dining Set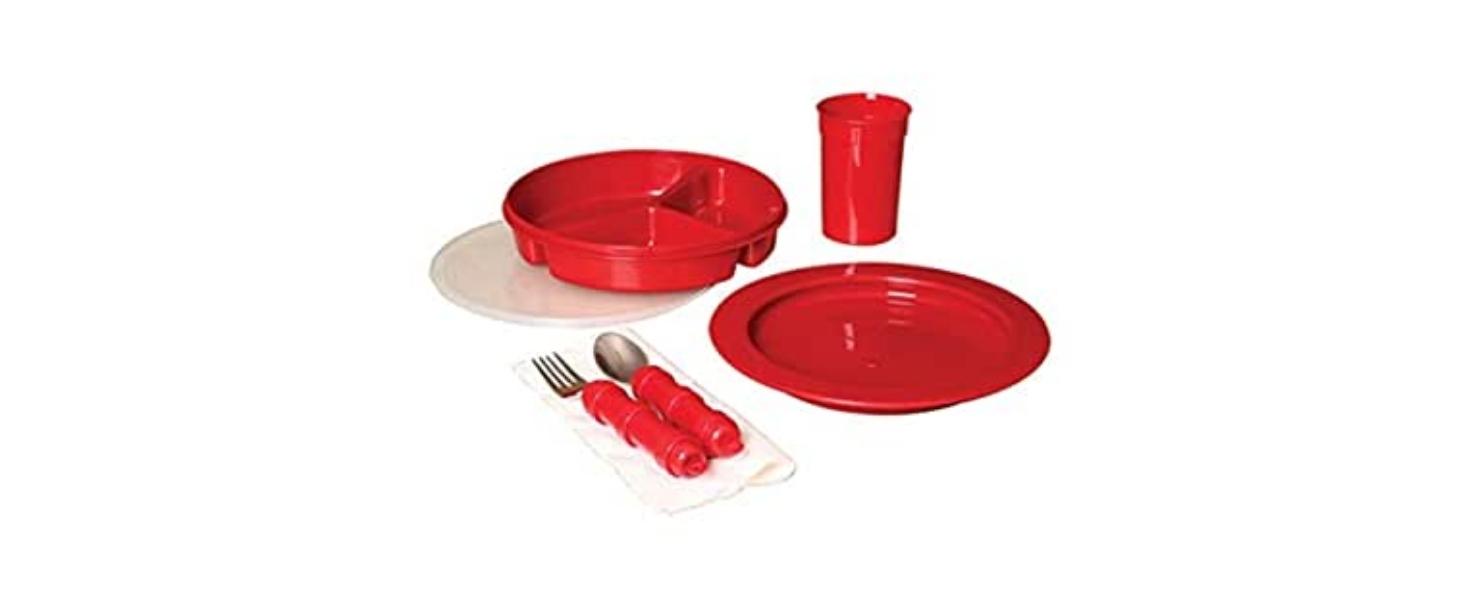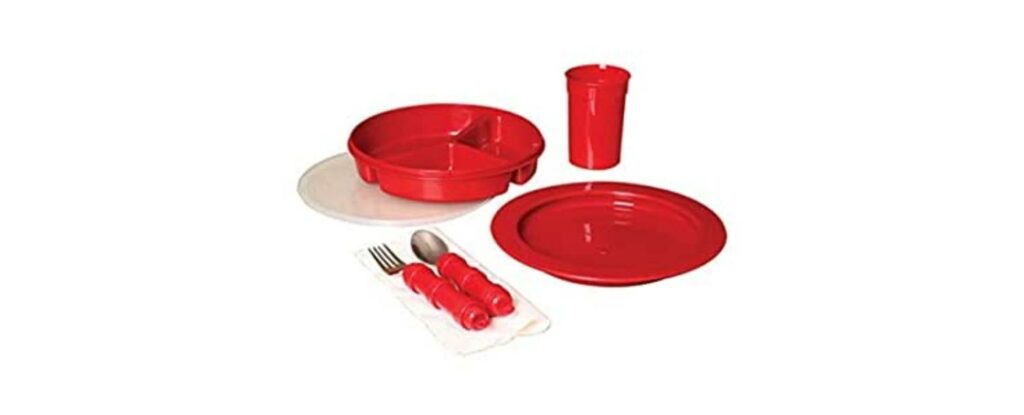 This five-piece set from Mabis lets you get the most bang-for-your-buck as a caregiver. The complete set comes with a partitioned plate, another dish with an inner lip, a cup, fork, and spoon. The set is red and designed to help Alzheimer's patients, who often experience vision loss. The cutlery has extra-large handles to aid with gripping. The cup has measurements on it so you can measure how much you are pouring for the person and track fluid intake. The entire set is dishwasher and microwave safe, making clean-up and prep easier on you.
Adaptive Utensils – In Summary
Adaptive utensils can help caregivers and their loved ones regain independence. By giving a person the ability to self-feed, it's freeing up time for the caregiver and giving the person a sense of autonomy and dignity. It also ensures the person you are caring for gets the nutrients they need, mitigating further health problems and concerns for family and friends.
Utensils may be weighted, feature easy-to-grip handles, or have bendable features to ensure the person is able to eat with more ease. There are also cups, plates, and cutting tools that help people drink and prepare food, even with mobility issues.
Beyond Adapted Utensils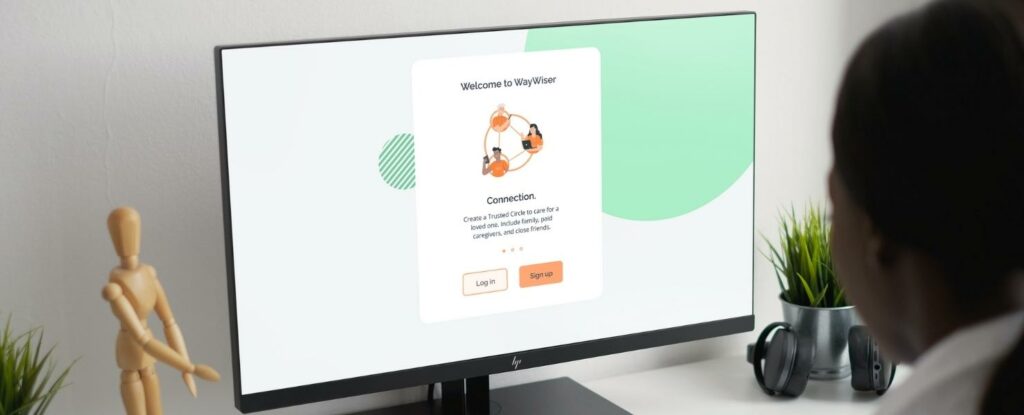 If you're looking for better ways to coordinate care of your loved one, take a look at WayWiser.
WayWiser is a secure, private space to connect your family, paid caregivers, and close friends so you can manage the care and financial safety of an aging parent or other loved one as a team.
Whether you need to plan meals, keep notes about a loved one's daily diet, or update your family on how things are going, WayWiser is a great tool.