Organizing important documents, such as taxes, receipts, birth certificates, and more, may seem like an insurmountable task. The good news? It doesn't have to be. There are actually some clever and easy ways to organize your documents without a major time commitment. In fact, just a few minutes a day can put you on your way to better organized paperwork.
Examples of Important Documents
Let's first establish what we mean by important documents. Although by no means are they limited to just these items, here are a few examples:
Tax returns
Passports
Social Security cards
Bills
Insurance paperwork
Rental or mortgage related paperwork
Copies of IDs you regularly use, such as your driver's license
Vehicle titles or registrations
Proof of citizenship
Estate plans
Trusts & Wills
DNRs or POLSTs
Paperwork related to school enrollment and/or degrees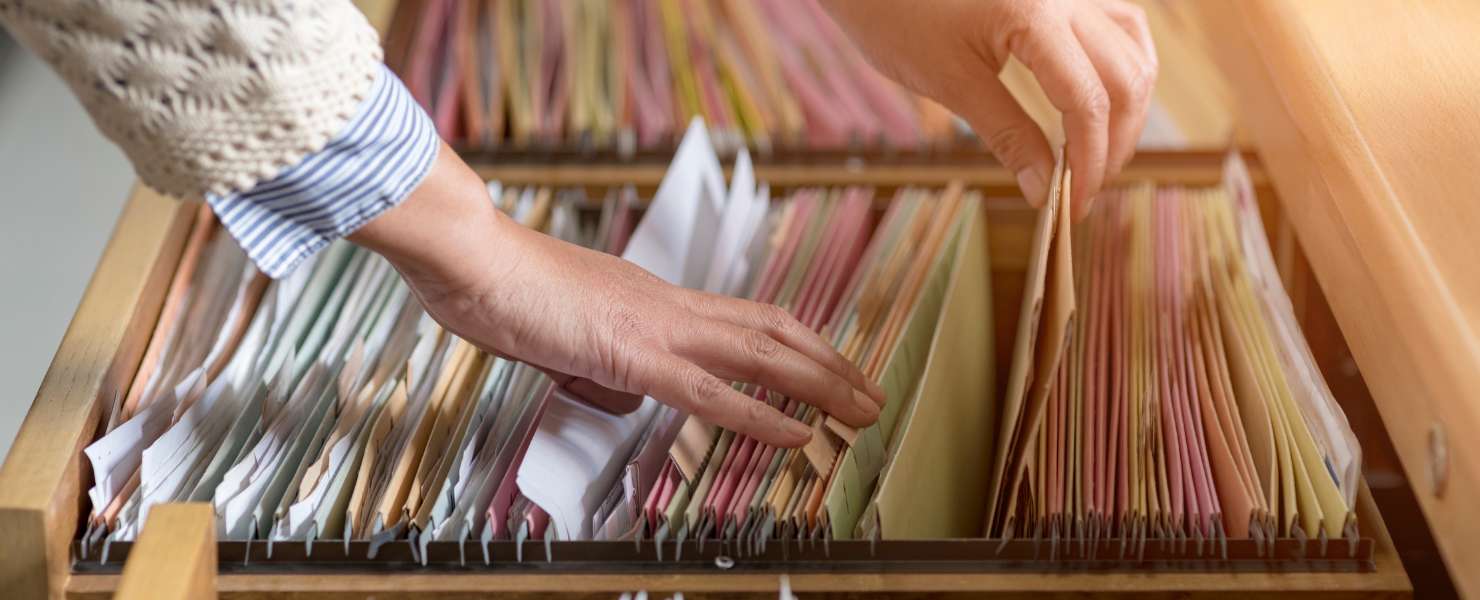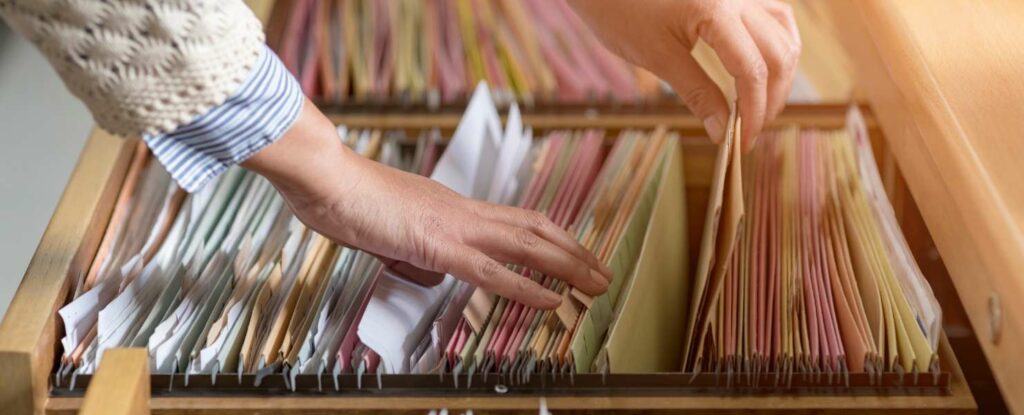 With the way of the world becoming more digital, you may have many of these important documents in an electronic format. At the same time, if you're like many of us, you probably have enough paper copies of your important documents that you want to figure out a reasonable way to store them in an organized fashion. And if you're caring for your parents, or helping them get organized, you can safely bet that the majority of their most important documents are still in paper format.
Your First Steps to Getting Organized
Gather together the important papers that you'd like to organize. Perhaps you have them in one big pile. Or, perhaps your important documents are spread throughout your home, just waiting to get organized. Whatever the case is, take some time now to bring them together.
Decide on the different categories you want to designate for your important papers. You can organize them into large subsets, for instance, at WayWiser we start with Daily Living, Finance, Medical, and Personal.

But if you have quite a few documents for specific categories, consider subfolders beneath those categories such as:
Insurance
Identifications & Certificates
Immigration paperwork
Estate plan & Wills
Tax returns
Specific child's school paperwork
You get the idea. Everyone's categories will be different. Also note, while you may have a copy of a document like your estate plan or will, you should also have a copy of this elsewhere, such as in a fireproof/waterproof box or in a safe deposit box at a bank.
Based on your categories, start to separate your paperwork into the appropriate category.
Create labels for your categories. If you're using hanging file folders, you'll simply write on the label for each file folder. If you have a label maker, you can use that to make a label.
Start to place your documents in the correct file folder.
6 Tips to Maintain Your Organized Important Documents Over Time
Once you have your important documents in order, give yourself a pat on the back! This should help make life more efficient. However, it does take some maintenance over time to keep up with your organized documents. Here are a few tips to keep things in order: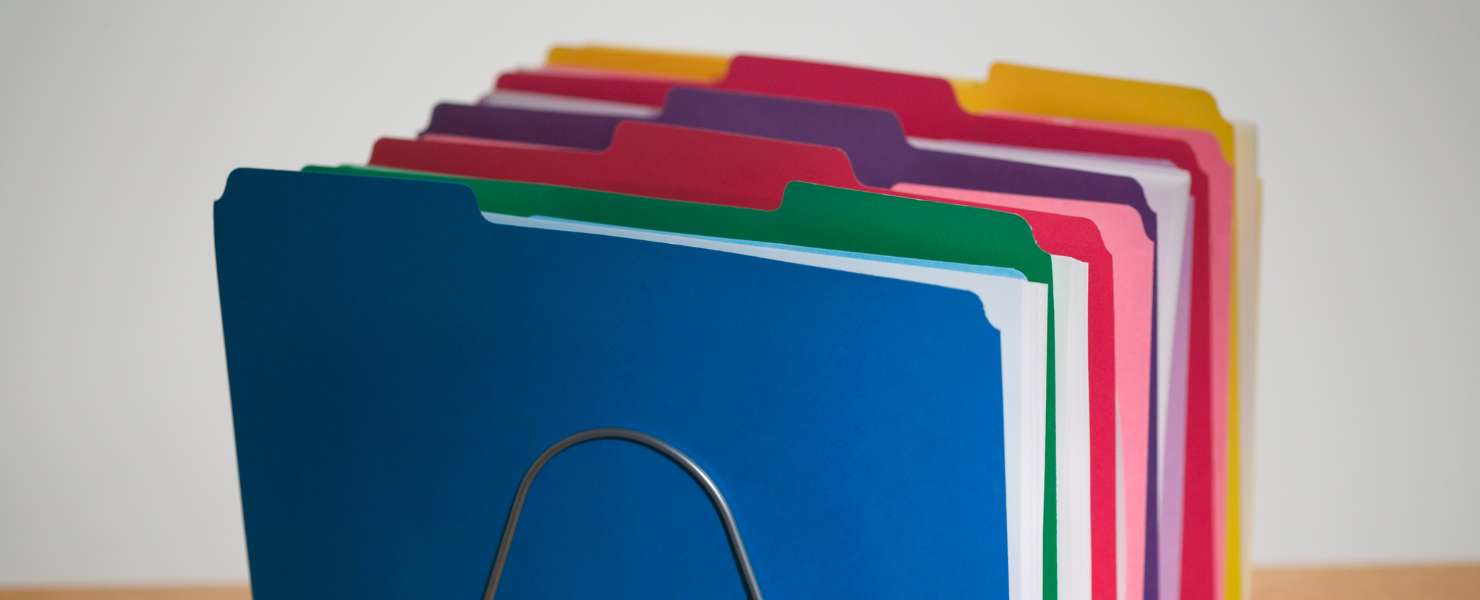 1. Have a separate folder for paperwork that requires follow-up over the next seven days.
Take some time every week to go through the information in that folder, whether it means paying a bill due ASAP, making a follow-up phone call, or moving a certain paper to another folder.
2. Take more time if needed to complete your paperwork organization.
If your overall paperwork (not just the seven-day folder) is still overwhelming, it's okay. Take a chunk of time every day, or even just once a week to sort through things further. Even 15 minutes can make a dent in what you need to get done and you'll be amazed to see that you'll be completely organized within a month.
3. Decide when you may need to call a professional.
If the task of getting organized still seems like it's too much to tackle, you're not alone. There are professional organizers who can help. If that's outside of your budget, maybe a trusted friend or family member can help.
4. Go digital when you can.
Nowadays, many people also are finding ways to keep important documents organized digitally. This has some great advantages, such as taking up less space and making it easier to share documents as needed through an app like WayWiser and their Family Vault. If you're familiar with scanning documents and turning them into PDFs, you can start to digitally store documents. And if you aren't familiar, take a look at some of the scanner options on Amazon. There are some well reviewed scanners for just $100. Isn't it worth $100 to be organized and prepared for the future?
5. Clean out important documents from time to time.
You don't need to hold on to every important document for the rest of your life.
Some general guidelines on how long to hold on to your papers:
Less than a year: Receipts and bills.
1 year: Medical bills and financial statements.
Up to 7 years: Deeds, insurance claims, tax-related paperwork.
6. Consider new filing systems.
If you find that you enjoy getting organized, then you can add some creativity and flair to the process. While hanging file folders are the old standby for organizing your paperwork, it's not the only option available. The following article from Better Homes and Gardens shares several ways you can organize important papers in the home, such as filing cabinets, cubbies, wall files and more. The article goes beyond just paperwork to also show ways to organize other items, like office supplies and messages to and from other family members. 
A Final Word About Organizing Your Important Documents
Although it may seem challenging, getting your important documents organized should ultimately make life easier. With some time and planning, you can get organized and stay organized.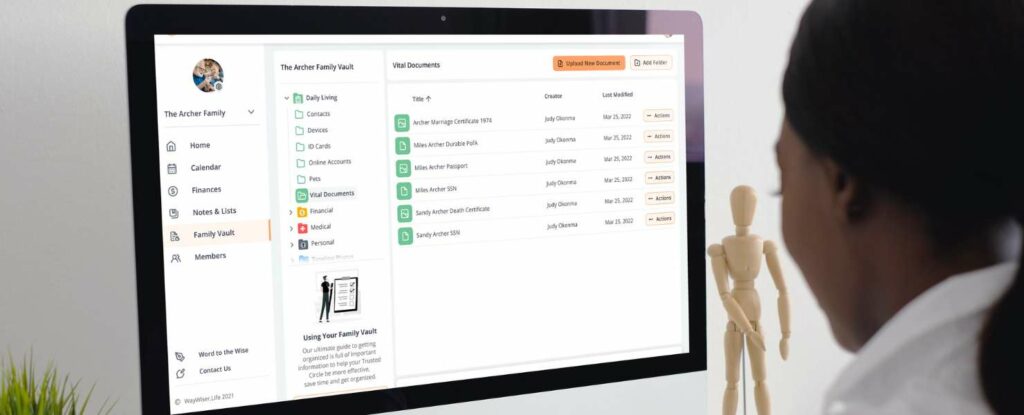 Even further, converting your documents to PDFs and storing them digitally will help your family better plan for all of the "what if" scenarios that life might throw your way, making your key documents easily accessible at a moment's notice. You'll likely find it nice for yourself as well. Just imagine, the next time your doctor asks you for your medical history…it's right there in your Family Vault.