Whether or not you enjoy grocery shopping, you've probably been making fewer trips to the store due to limiting exposure to others during the COVID pandemic. Nowadays many people have stopped going to the grocery store altogether and rely on the convenience of online grocery delivery apps and store delivery services. It's a perfect solution for those who simply don't have that extra hour in their day, but there really are a number of advantages.
Saving time: Someone else chops for you while you can be doing something else at home.


Saving money: You don't have to pay for gas for your trips to the store. You can also save money on your shopping budget by making price comparisons.


Convenience: If something you want is out of stock, you know straight away so you can cancel your order or choose a replacement.


Find deals: If you are looking for deals or coupons, you can also find those using your app. You can also use your usual loyalty cards.


Shop by history: This is great if you buy certain items on a regular basis. Your purchase history is stored in the app, so you'll never forget what you have bought.


Keep track of your budget: As you add items to your shopping cart, your app keeps track of how much you are spending, so you'll never go over budget.


Stress-free: Because you don't ever have to set foot in a grocery store and you can shop from the comfort of your armchair, the whole process is stress-free.


Environmentally friendly: Online grocery shopping reduces the number of cars on the road and therefore reduces pollution.


How Does Online Grocery Shopping Work?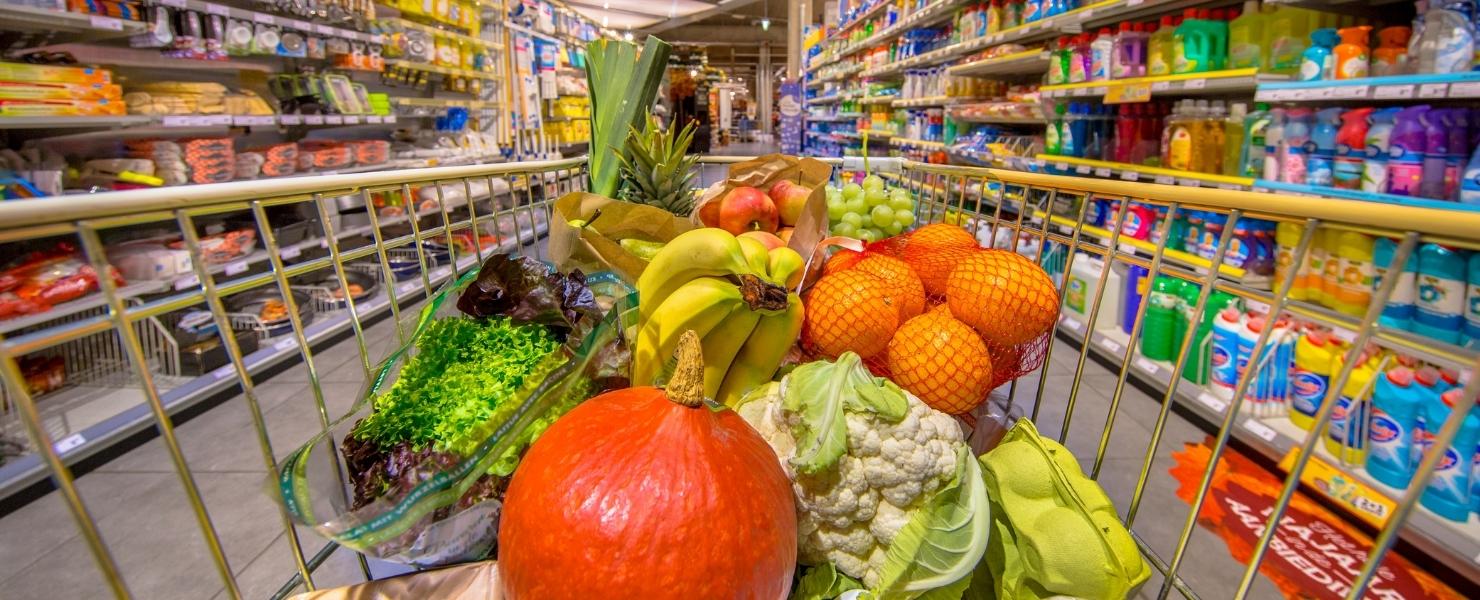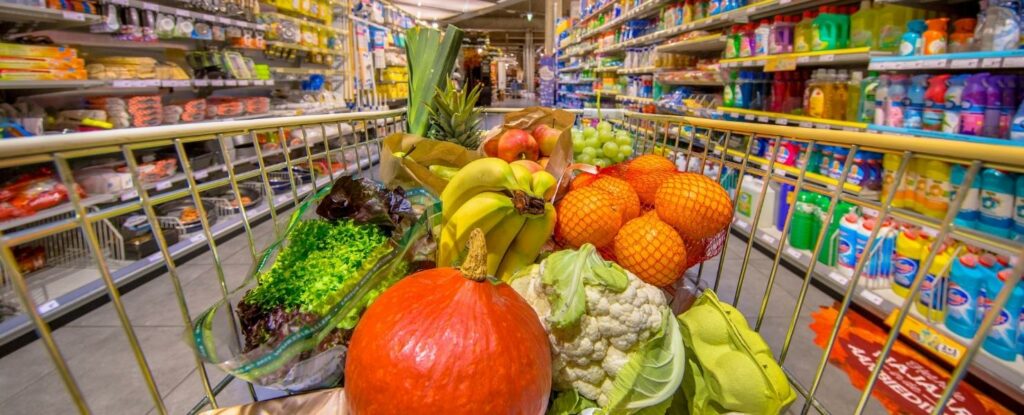 When you use a grocery delivery app to shop from home, you can search for items, or browse items by department until you find what you want. You can add items to your cart with a quick click and when you are ready to check out you pick your delivery time and pay online. In most cases, you can stay in touch with your shopper and track your order when it is en route to your home.
You can also shop at any time of the day, whenever it's convenient for you. That means if it's midnight and you suddenly remember that you need some bathroom tissue, you can add it to your list and have it delivered the next morning. You can literally add items to your digital grocery cart right as you're doing your weekly meal planning with one of these meal planning apps and be done with it all without leaving the couch.
There are many apps to choose from that you can use on the go. All you need is a computer, tablet, or smartphone. In most cases, during store opening times, you can have your groceries delivered within an hour or two, with just the click of a few buttons.
Top 7 Grocery Delivery Apps
Here's a rundown on the most popular and efficient apps for grocery delivery:
Instacart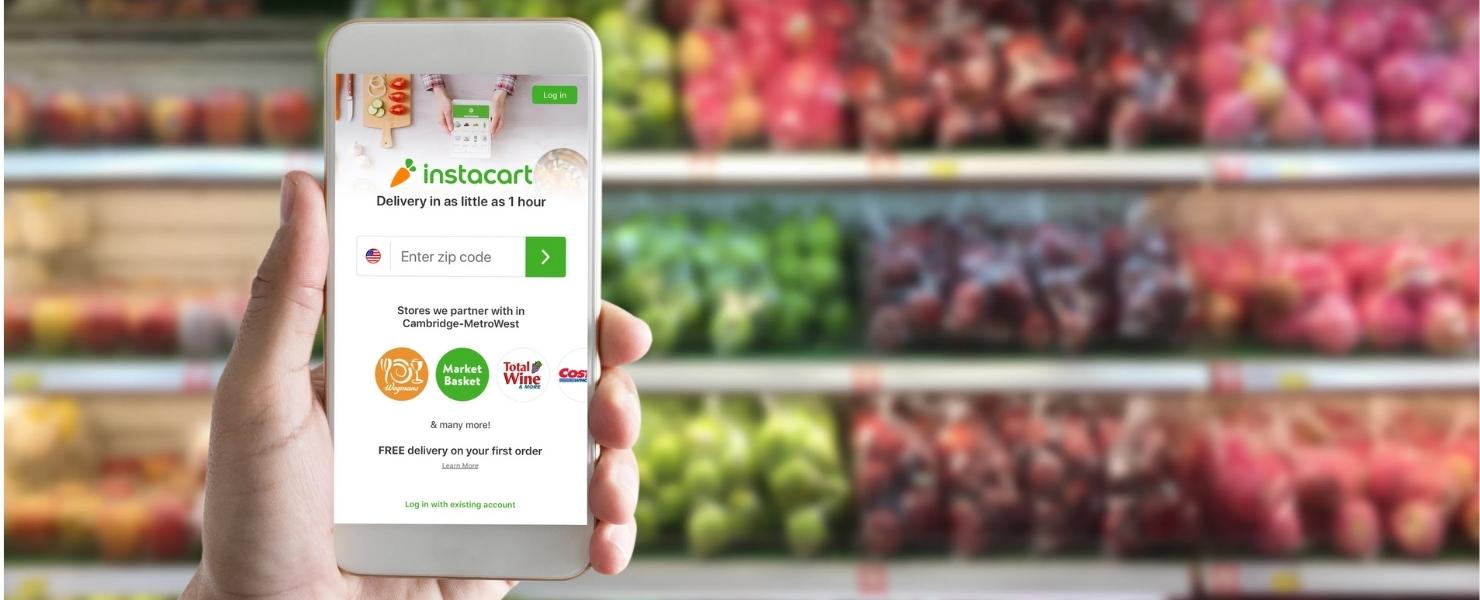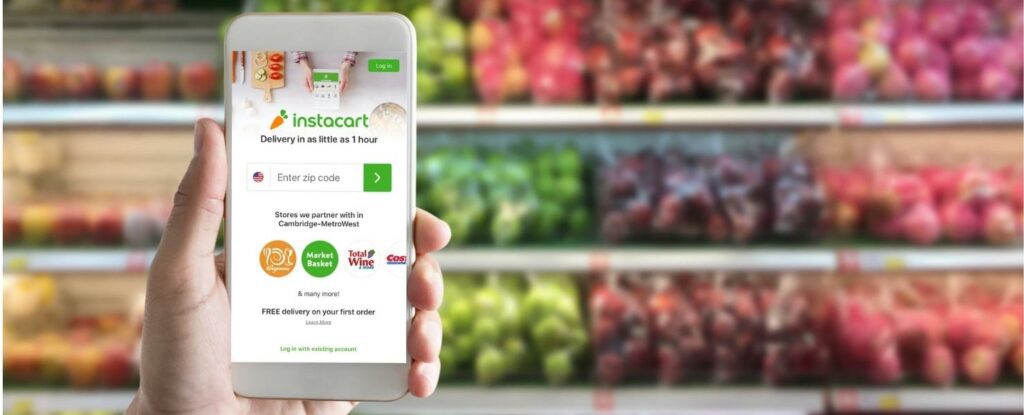 It's easy to shop online using Instacart and depending on where you live, you will have a range of grocery stores to choose from including Costco, Aldi, Kroger, Public, CVS, Food Lion, and more. In some regions, Instacart also partners with other stores such as Staples and Dollar General. It's no wonder why Instacart has become one of the most popular grocery delivery apps on the market today.
You can usually get same-day delivery. If you are a member, usually within 2 hours unless the store is very busy. You can shop from the app or website.
Minimum Order: $10
Delivery fee: $4 and up for non-members.
Membership: Options are $99 per year or $10 per month and include unlimited free delivery on orders over $35.
Walmart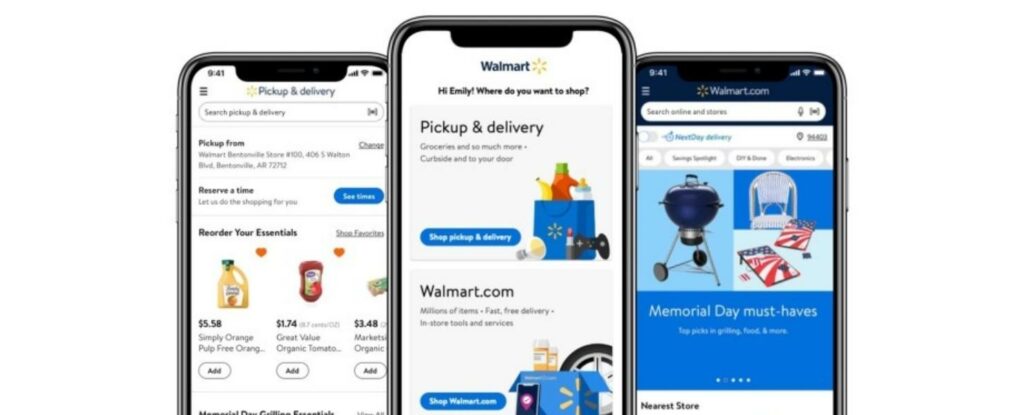 Walmart is a staple no matter where you live in the US and their mobile grocery delivery app is exceptional. With Walmart's Delivery Unlimited service, for an annual fee, you will get unlimited free grocery deliveries all year long. You can order all your items through the app or website and have them delivered to your door. If you'd prefer not to have it delivered, You can drive to the store and your shopper will load it into your car curbside. We love that extra convenience of the curbside pickup and their multiple locations.
Minimum order: $35
Delivery fee: $10
Membership: $98 per year or $12.98 per month. There is a 15-day free trial.
Shipt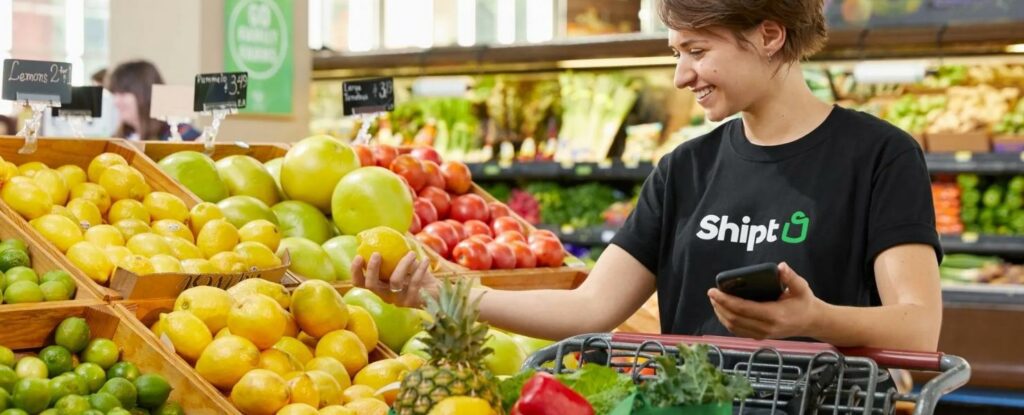 Shipt provides contactless delivery of groceries and household essentials from stores like CVS, Costco, Target, Bed Bath & Beyond, Office Depot, and Petco.
Shipt is available in over 200 cities throughout the U.S. In many cases, you can get your order delivered in as little as one hour. You can communicate with your shopper via text and track your delivery which makes it a great grocery delivery app, particularly for non-food essentials.
Minimum Order: $35

Delivery Fee: $7 for orders below $35

Membership: $99 per year or $14 per month
Amazon Fresh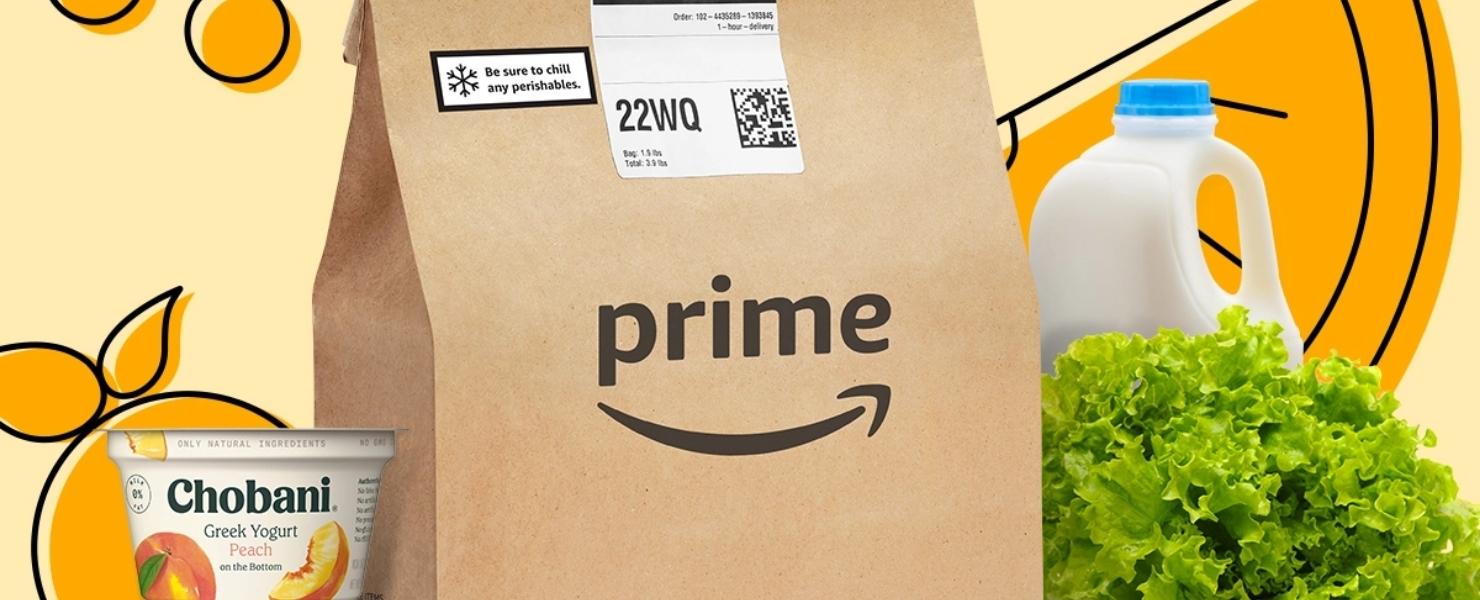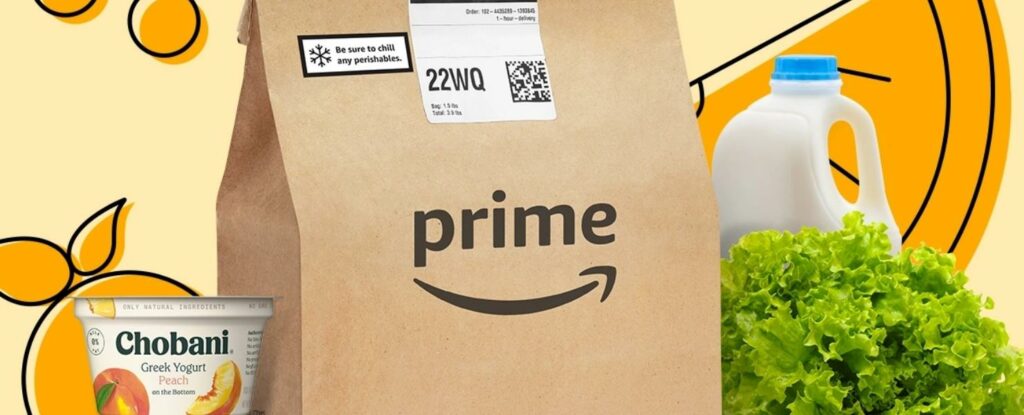 Amazon Fresh is a grocery delivery service for Amazon Prime members. The service allows you to buy a wide range of groceries and fresh produce in states where it is available. These currently include California, Illinois, Maryland, Pennsylvania, Virginia, Washington State, and Washington DC. The service offers free same-day delivery for Prime members.
If you're already subscribing to Amazon Prime for their online streaming or free shipping, you may as well give their grocery delivery app a shot. And don't forget, Amazon also owns Whole Foods now, so depending on where you live you can order through the Whole Foods app for some high quality (albeit mighty pricey) produce.
Minimum Order: $35 for free delivery

Delivery Fee: $10 for orders below $35

Membership: Free for Prime members
Hungryroot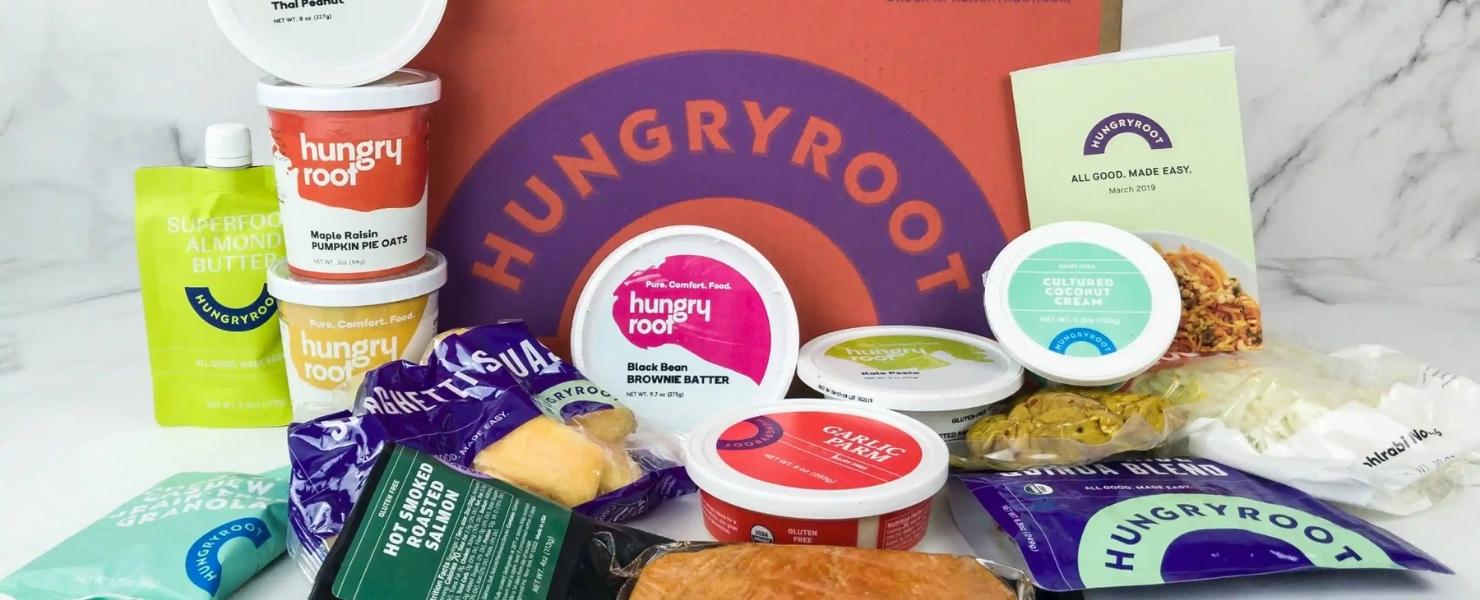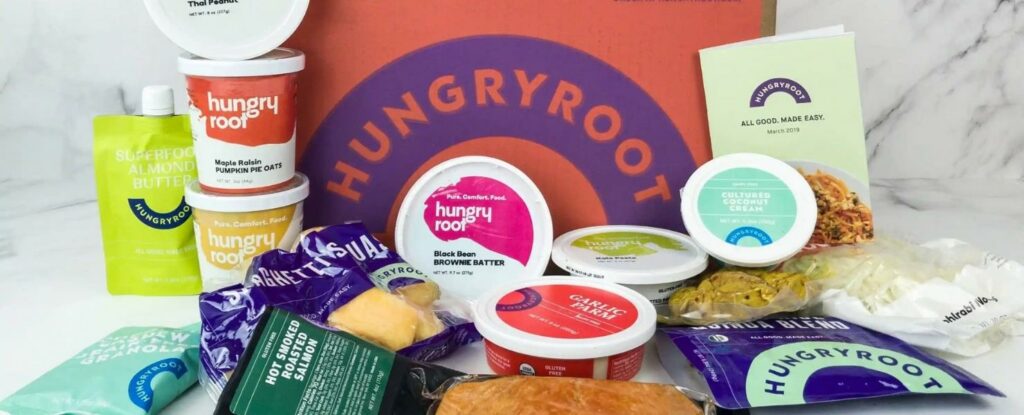 Hungryroot is a meal plan delivery service that offers a selection of nutritious groceries and produce as well as a range of healthy recipes to go along with them. You can take a simple quiz to help the company recommend items and recipes that meet your dietary needs and tastes.
Membership: Hungryroot offers a range of plans, the smallest one starts at $59.94. On this plan, you can choose three 2-serving meals. The prices for larger plans depend on the number of breakfasts, lunches, dinners, and snacks you order for the week.
FreshDirect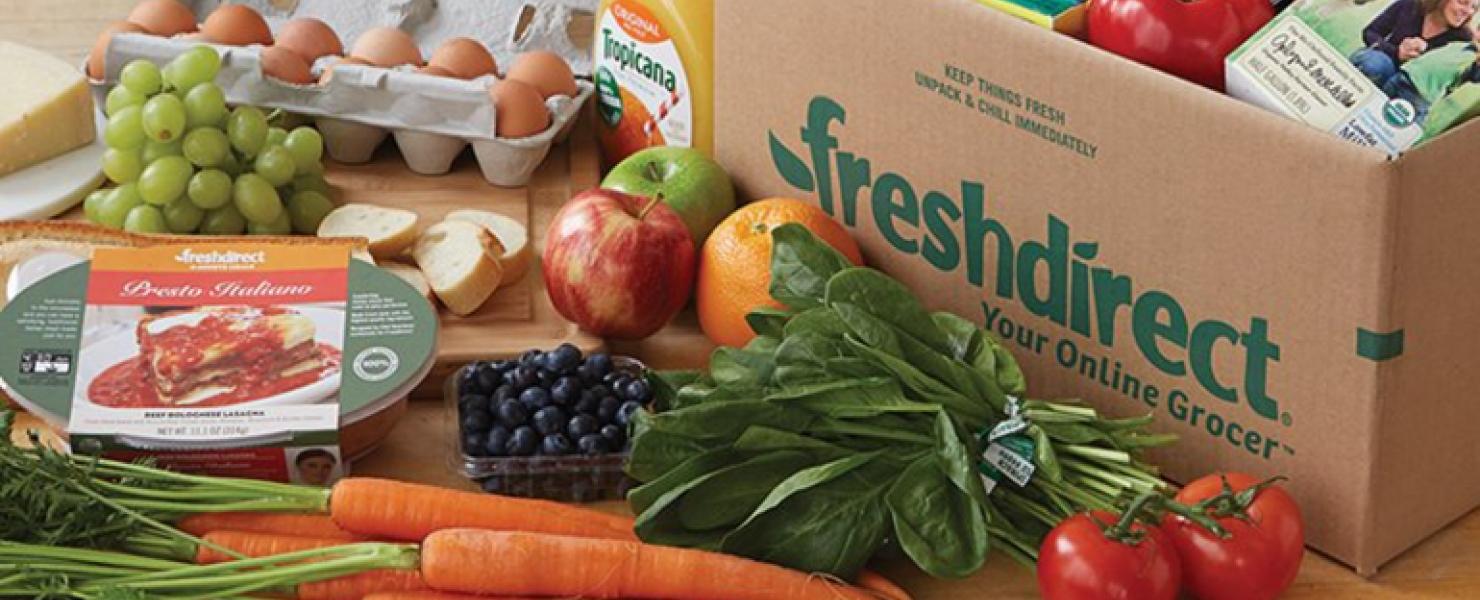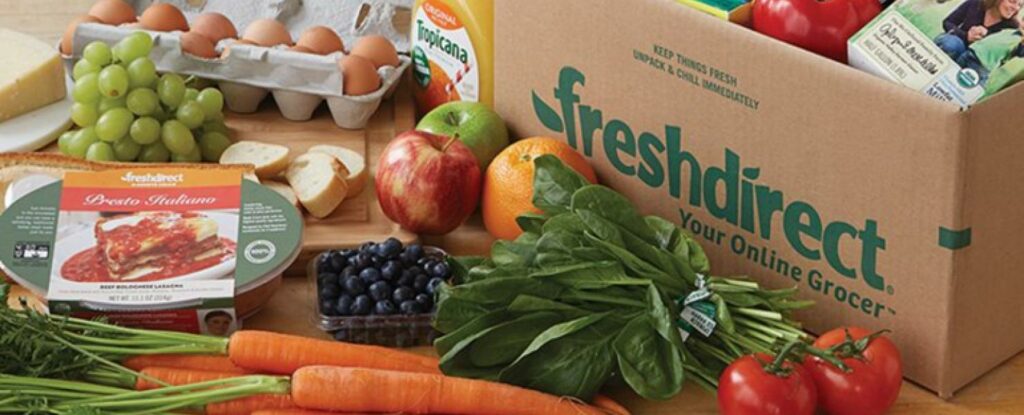 FreshDirect provides a service for grocery delivery, meal kits, and prepared meals. For example, you can buy a complete thanksgiving dinner. In some areas, alcohol, farmshare boxes, and personal care items are also available.
This service is currently only available in New Jersey, New York, Connecticut, Delaware, Pennsylvania, and Washington DC. Delivery time varies between one day to one week depending on your location. In New York City you can have goods delivered the same day.
Minimum order: $30
Membership: Not required but Delivery Pass costs $129 per year, $79 for six months.
Shipping fee: With a minimum order shipping costs $5.99-$15.99. Free with Delivery Pass.
Peapod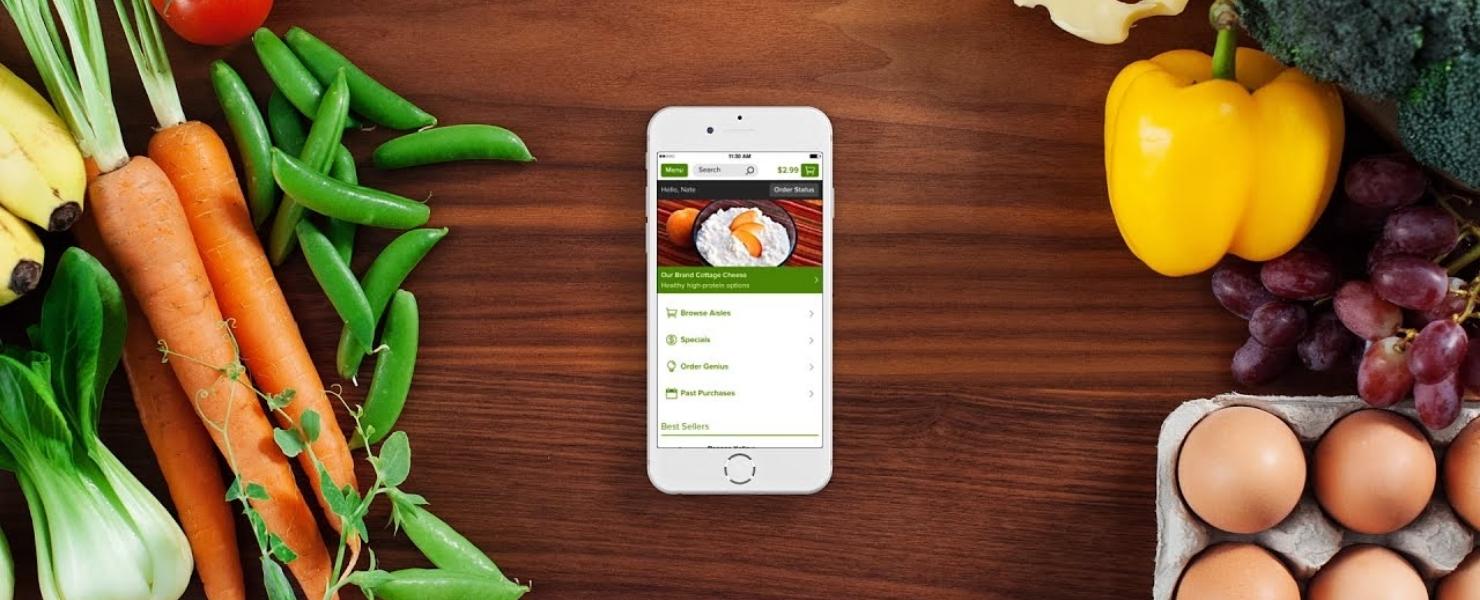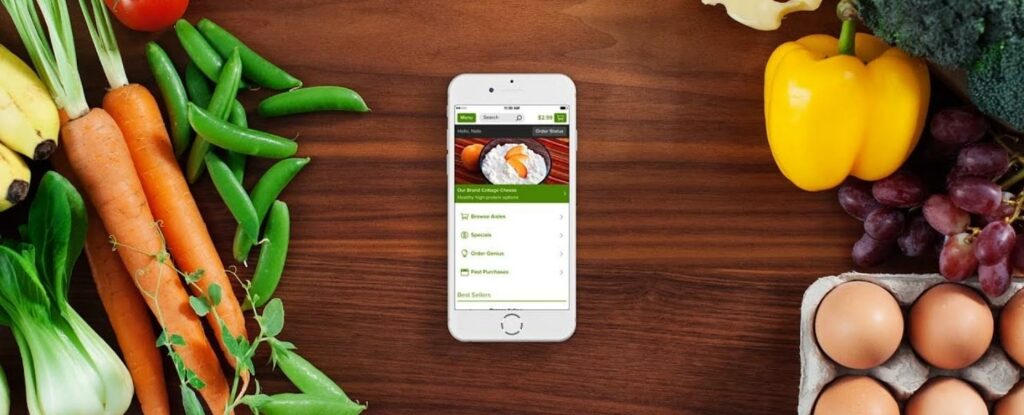 Peapod is a grocery delivery service that is available in New England and some mid-Atlantic states. You can check your zip code for their availability. You can buy groceries from your favorite brand, either Giant, Stop & Shop, or Martins. Delivery time varies from one day to a week depending on the contents of your order and your location. Peapod no longer operates in the Midwest.
If it's available in your area, online grocery shopping can be a real time and money saver. Although some services are more expensive than others, good quality items are important. It's also very convenient to shop from the comfort of your own home and put items into your cart at any time of day or night, or even throughout the week as you need them. Online grocery shopping is particularly helpful for elderly or disabled people who are unable to leave their homes or those who do not have a grocery store nearby.
Membership: None required. Podpass is available at a rate of $119 per year, $49 for three months, and $69 for six months if your orders are at least $100.
Delivery fee: Varies depending on the amount of your order. Free with Podpass.