If you're like most people, you probably have at least one person in your life who is struggling with memory loss in one form or another.
In addition to the pain of seeing them slowly lose their mental abilities, you also feel burdened by the responsibility of ensuring they are properly cared for. Depending on the severity of their needs, you may find the job completely overwhelming.
If this is the case, you need to know about memory care.
Memory care facilities provide specialized treatment and support for those suffering from dementia, Alzheimer's disease, or other forms of memory loss.
In this guide, we'll walk through what memory care is, the benefits it offers, how to choose a memory care facility, and more.
What Is Memory Care?
Memory care is 24/7 care designed to meet the needs of those with memory loss, including Alzheimer's, dementia, and other memory loss conditions. The facilities are uniquely designed to provide a safe environment, improve quality of life, and reduce symptoms associated with memory loss.
Memory care communities offer supportive living, which includes help for daily activities such as personal hygiene and dressing, at-home safety checks, medication management, and more.
Key features of memory care facilities include:
24/7 support and care from trained professionals
A safe, nurturing environment where residents can reconnect with their loved ones and maintain some level of independence
Medication management to help manage symptoms of memory loss
Assistance with personal care and hygiene
Nutrient-rich meals
Therapy to improve memory skills
Transportation
And more…
Caring for someone suffering from significant memory loss is challenging, to say the least. It is challenging for the carer, both physically and emotionally. A dedicated memory care facility can provide the assistance, support and supervision required to help make this process easier.
How Is Memory Care Beneficial For Seniors With Memory Loss?
Memory care facilities are uniquely and specifically designed to help with the distinct needs that accompany Alzheimer's, dementia, or any other form of memory loss.
Residents in memory care are able to maintain their skills for longer periods of time, while also being in a stimulating environment with activities that promote cognition and improve quality of life.
Some of the unique benefits of a memory care facility include:
A safe, secure environment, ensuring that residents don't wander into dangerous locations, which is common with memory loss
Staff who are specifically trained in Alzheimer's, dementia, and memory care
Therapies designed to improve memory skills, reduce memory loss, and improve quality of life
Coordination with other health care providers, such as primary care physicians, hospitals, etc.
Structural layouts designed to minimize confusion of residents
High staff-to-resident ratio (i.e. more than enough staff to provide quality care for every resident)
It's important to understand that memory care is focused on serving and caring for those who are experiencing the effects of memory loss. Unlike many facilities, which offer a broad spectrum of services to many types of patients, memory care facilities are uniquely positioned to provide the highest levels of care to those struggling with progressive memory loss.
Dementia is generally a progressive disease, meaning that symptoms get worse over time. As the dementia worsens, those afflicted become unable to live independently, which places a significant burden on caregivers.
Eventually, it may get to the point where a person with dementia can't live safely at home anymore. Even simple daily activities, such as hygiene, getting dressed, and using the toilet become impossible. There also may be an increase in symptoms like confusion, aggression, and disorientation, which affects both the sufferer and the caregivers.
The stress of caring full-time for someone with significant dementia, plus handling other responsibilities, such as work and family, can lead to caregiver burnout and significantly lower quality of life.
This is why memory care can be so helpful, both for those struggling with memory loss and those caring for such individuals. Memory care enables caregivers to spend time with their loved ones, while still providing the highest level of care for those with memory loss.
Here are some specific ways memory care facilities benefit those struggling with dementia, Alzheimer's, and other forms of memory loss.
1. Personalized Care
One of the greatest benefits offered by many memory care facilities is the highly personalized care. Unlike many other types of facilities, where a one-size-fits-all approach is taken, memory care is uniquely tailored to the individual needs of every resident.
Memory-care communities bring a personalized approach to caring for seniors who suffer from dementia by understanding and catering to the individual's preferences, experiences, abilities, and needs.
Staff members in these facilities are encouraged to develop relationships with the residents receiving dementia care, as well as with family members. This approach allows the staff to get a full understanding of each of the residents and develop a personalized plan that addresses not only health and physical needs but also emotional, mental, financial, and spiritual needs.
2. Coordinated Care Across The Board
To most effectively care for those dealing with memory loss, a coordinated approach is needed. Memory care staff work with residents to assess their needs and develop plans for activities, entertainment, socialization, exercise and education tailored to the specifics of each individual's condition.
Staff members at memory care facilities are also able to work with other healthcare professionals for residents who need additional care. For example:
Coordinating appointments with and transportation to outside healthcare providers, like dentists, primary care physicians, and specialists
Managing medication for illnesses, such as diabetes
Scheduling home health appointments for injured or recovering residents
Bringing rehabilitation providers (physical, occupational, speech, etc.) onsite as needed, making it more convenient and less intimidating for residents to schedule appointments
Establishing hospice care when necessary so that residents are comfortable
3. Safety
Memory care facilities are equipped with multiple safety features that can keep residents from wandering, which increases the risk of getting lost or hurt.
For example, all exterior doors are usually equipped with doorbells and coded locks, allowing only authorized personnel to enter or leave undetected. Enclosed gardens and courtyards are another common feature, allowing residents to be outdoors without the risk of wandering.
The facilities are also often laid out in ways specifically designed to minimize both confusion and disorientation, which are common contributors to wandering.
Providing residents with personalized living spaces, plenty of light, and reduced background noise creates a sense of safety, calmness, and familiarity. Rather than feeling agitated, the residents experience calm and peace as they go about their daily lives.
4. 24/7 Dedicated Memory Care
Memory care staff regularly receive specialized training so that they can provide quality, personalized care for seniors experiencing memory loss. Memory care can also offer residents a degree of independence, while still providing them support tailored to their specific needs and struggles.
What's more, a relatively high staff-to-resident ratio at facilities allows the staff to interact more with residents and take the necessary time to address each person's individual needs. Staff members also provide residents with stimulating activities that promote memory and help seniors maintain day-to-day skills as long as possible.
Even though dementia behaviors and symptoms can be challenging for caregivers, memory care staff are trained on how to deal with them in kind and compassionate ways. This is often done without the use of antipsychotic drugs, including specific techniques not commonly used in typical nursing or residential care facilities.
5. Multiple Types Of Therapy And Treatment
As noted above, memory care facilities often provide types of treatments that aren't typically available in standard nursing or residential care facilities. These therapies are designed to improve memory skills, reduce agitation levels, promote relaxation, and boost mood.
For example:
Art therapy is a popular tool in memory care units to help minimize cognitive decline and improve the resident's quality of life.
For people that suffer from dementia or Alzheimer's disease, listening to live music or singing songs can greatly reduce aggressive behavior and improve cognitive functioning.
Occupational therapists teach seniors ways to cope as they progress through a decline in memory and cognitive function.
Reminiscence therapy helps residents remember people, events, and places through the use of sight, touch, taste, smell, and sound.
The use of multiple types of therapy can enrich the lives of residents, provide them with new coping skills and tools, and reduce the progression of memory loss.
How Much Does Memory Care Cost?
As you might expect, memory care costs more than general assisted living care. And while the costs will vary depending on where you live, the average cost for memory care will be around 20-30% more than assisted living.
There are several reasons for the higher cost, including additional training for staff, increased safety measures, and more personalized, time-intensive care.
The average cost of assisted living in the United States is $4,300 per month. If you add 25% to that amount, you get an average monthly cost of around $5,375 per month for memory care.
If finances are a problem, there still may be assistance available in a number of forms.
Medicare does not cover the cost of residence in memory care facility, but it may provide coverage for some services that are beneficial to those with memory loss or dementia, including in-home health care
Standard Medicaid also does not include coverage for residence at a memory care facility. However, many states have provisions that expand the services and supports covered by Medicaid, and at least a portion of memory care residence may be covered.
Life insurance policies can often be cashed out early, either through the insurance provider itself or by being sold to a third party. Though the cash received is always lower than the full death benefit, it can be used to cover the costs associated with residence at a memory care facility.
Long-term care insurance is specifically intended for those who are aging and need assistance covering the cost of care, including memory care. It's important to note, however, that these policies often have fine print that details exactly what is and isn't covered and in what circumstances. There are also limitations on who can apply based on age and current conditions. Before purchasing a policy, make sure to do your research.
A reverse mortgage is a loan where homeowners convert their house's equity to cash. This type of loan is ideal for seniors who are moving to a memory care center, but don't have the ability or desire to quickly sell their homes.
The loan can be used to cover the immediate expenses while the person settles into the care facility, providing flexibility when it comes to finally selling the home. Like any other loan, reverse mortgages must be repaid with interest over the specified timeline.
How Do You Know It's Time For A Person To Enter A Memory Care Facility?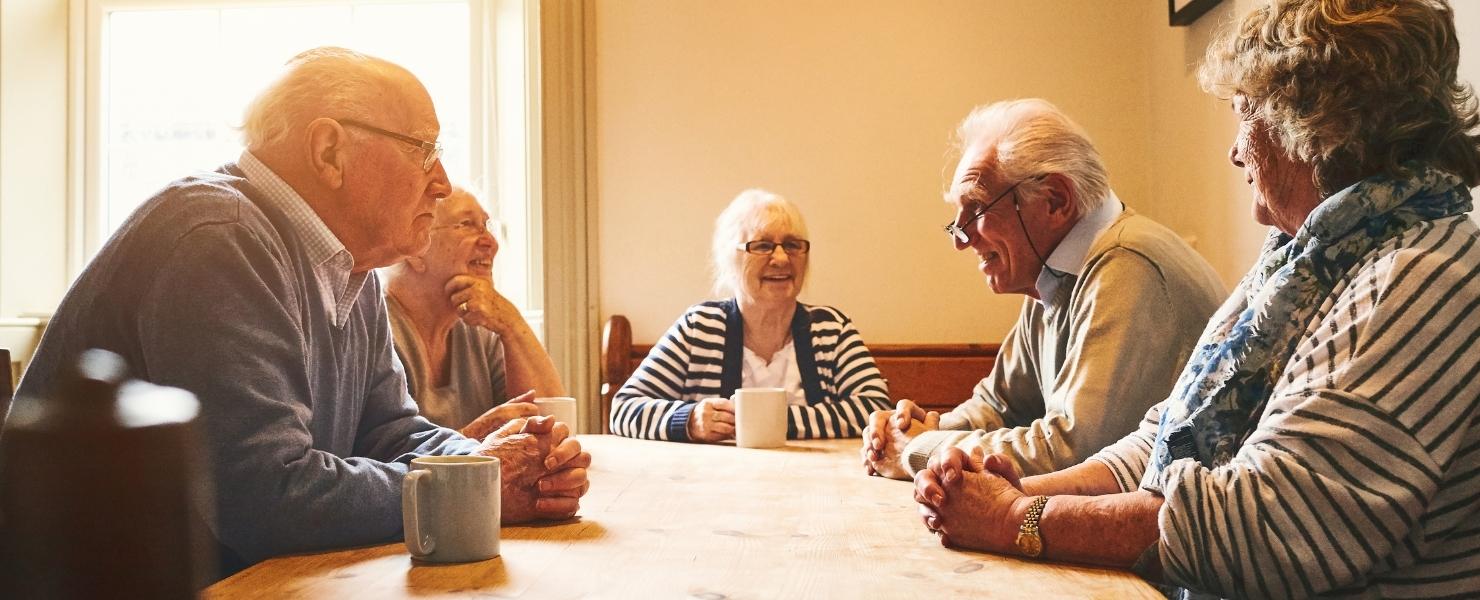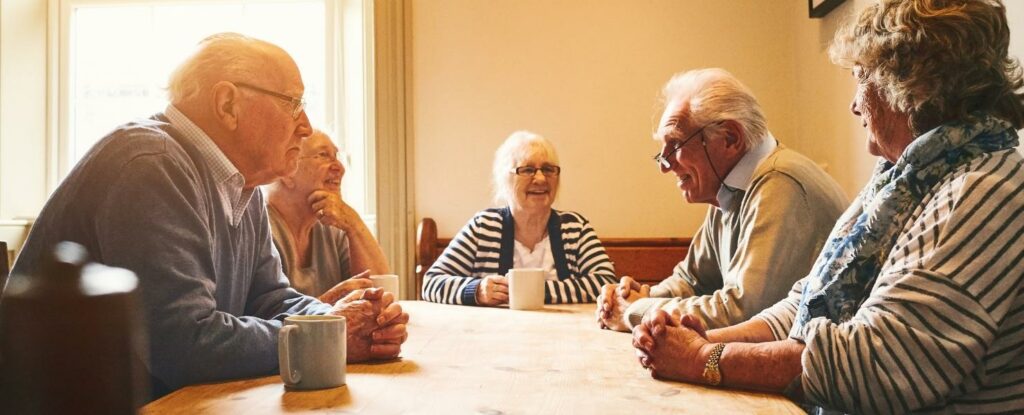 So how can you know when it's time for a person to enter a memory care facility? Though it's never an easy decision, there are some factors that can help you determine the appropriate time.
In the early and middle stages of dementia, a person may function well while living at home, with family, or in some form of assisted living facility. However, as the dementia progresses, it will probably become more and more difficult for family members, and even general assisted living facilities, to provide the level of support and care that is needed.
One of the great strengths of memory care facilities is that they are able to provide tailored care that ensures the safety of residents, while also offering them activities and therapies that help them maintain their independence and skills for as long as possible.
Additionally, the structured environment provided by memory care also provides a sense of stability and comfort to residents as they grapple with their declining mental functions.
Here are some indicators that it may be time for a person to transition to a memory care unit:
When it becomes too difficult for caregivers to manage dementia behaviors such as agitation, confusion, aggression, or wandering.
Your loved one can no longer take care of their daily hygiene needs.
Your loved one needs more care than you can give or your home is no longer safe for them.
When sleep disturbances and problems become unmanageable.
You have a difficult time managing your loved one's medication schedule or the amount of medications they're taking.
Your loved one is not getting sufficient nutrition on a daily basis or is losing an unhealthy amount of weight.
You're at risk of burnout, concerned for you and your family's health and safety, or worried that you can't keep up anymore.
If you or your loved one meet any of these criteria, having them transition to a memory care facility may be the best option. And while it's not an easy decision to make, it often is the best choice for everyone.
The guilt that can come with the decision to have a loved one go into memory care is completely understandable. You may feel like you shouldn't be delegating care to someone else.
However, it's critical to remember that by delaying the move, you may be putting your relationship with your loved one at risk, along with their health. You also may be putting your own health in jeopardy.
Seeking support in caring for a loved one with memory loss doesn't mean that you're selfish or don't care. Ultimately, your goal is to provide your loved one with the best quality of life and care, and often that is found in a dedicated memory care facility rather than at home.
How To Choose The Right Facility
When it comes to choosing the right memory care facility, there are several factors to consider. And while you can certainly gather valuable information from their online presence and talking with someone on the phone, it's also essential that you take a tour in-person.
While there, observe the facility closely. Is the facility clean and aesthetically pleasing? Do doors for rooms, amenities, or outdoor areas have clear signs (words and pictures) that reduce confusion? Is there a secure outdoor area with well maintained walking paths? Does it seem like the residents are happy?
You should also ask every question you have, including:
What safety measures are in place?
What types of activities are available for residents?
What specific training do employees receive?
How do they manage a resident who becomes aggressive?
How does the staff ensure residents are receiving proper nutrition?
What additional care is available if your loved one declines physically or mentally?
What therapies are available to help your loved one manage declining abilities?
If private finances run out, are there any assistance programs to help cover the costs?
When can family members visit?
Don't hesitate to ask any question that comes to mind. Ultimately, you want to feel confident that your loved one will receive top-notch care and be treated with the highest respect.
Not An End, But A New Beginning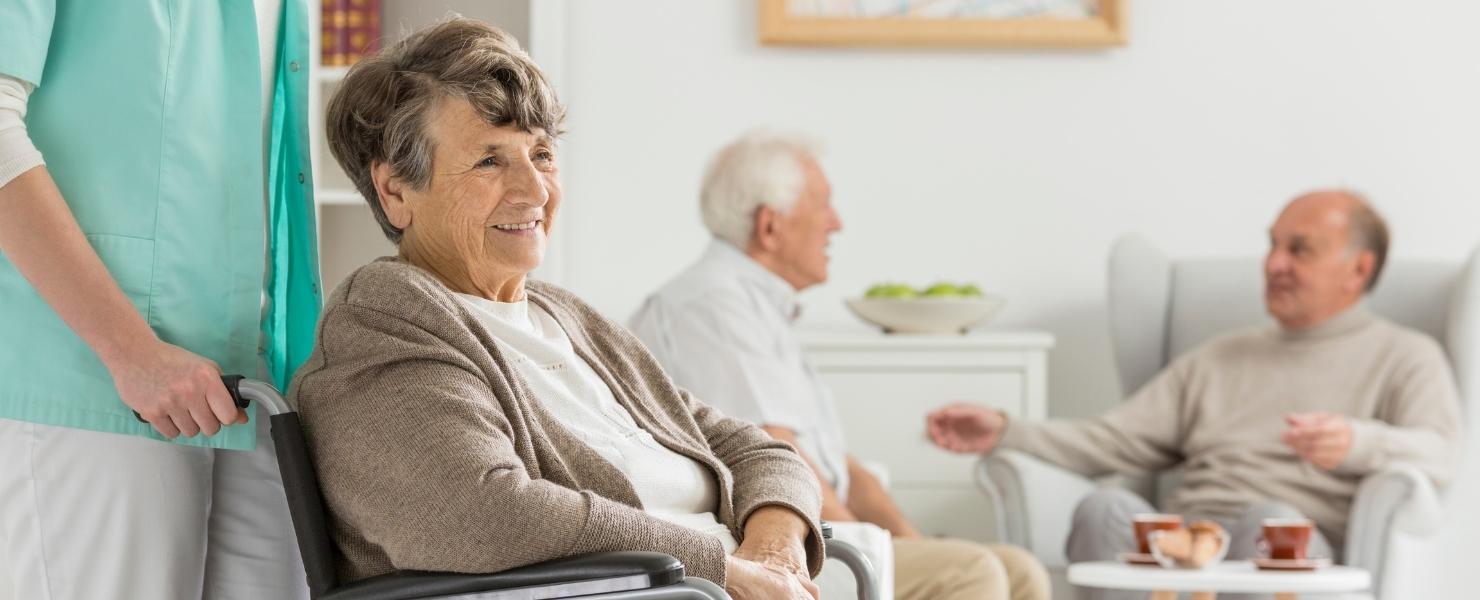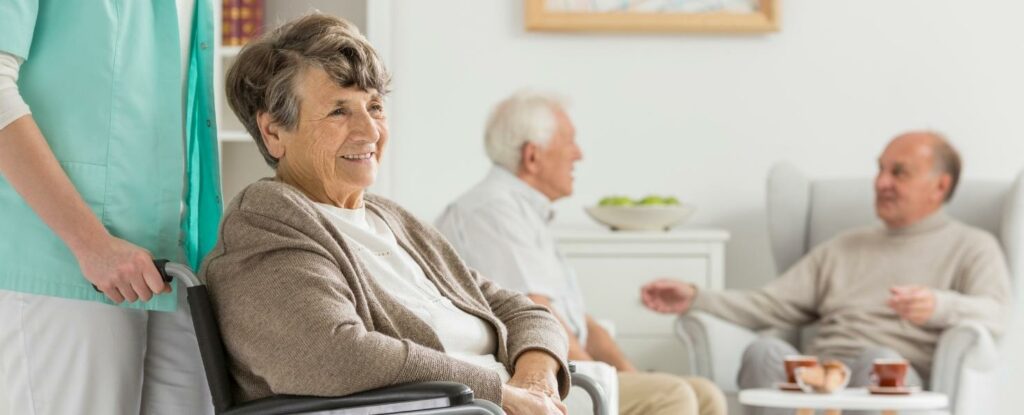 You might be tempted to feel like having a loved one transition into a memory care facility represents an end of sorts.
In fact, the opposite is true. When it's time for a loved one to enter a memory care facility, it opens new dimensions in both of your lives. They get professional care and support that ensures they are as healthy as possible for as long as possible.
You are freed from the stress and weight that comes from caring for someone struggling with dementia, Alzheimer's, or any other form of memory loss. Instead of feeling burned out, you can spend quality time with your loved one, knowing that even when you're not there, they're in good hands.
If you ever have specific questions about memory care, assisted living, or really any issues that affect older adults, please reach out to our team of experts and know that you aren't alone.